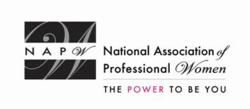 Leadership is very important for success in the business world. An effective leader must encourage team building among employees, as well as ethical standards.
Garden City, NY (PRWEB) June 11, 2013
Members and guests of the NAPW Santa Clarita, CA Local Chapter gathered on April 17th for a professional networking meeting at WoodRanch BBQ Grille in Stevenson Rancy, CA.
Chapter President Nicky "Dare" Eddy and Chapter members Patricia Williams and Grace Lee delivered insightful presentations where they shared their expertise in different business skill sets with the group of professional women.
Santa Clarita Local Chapter President Nicky "Dare" Eddy, an Outdoor Enthusiast and Mentor of Survival Strategist, kicked off the Chapter meeting.
She gave a warm welcome to members and guests, and introduced the newest Chapter member, Kathleen Starkey, Public Relations Coordinator at Samuel Dixon Family Health Centers, Inc. and Santa Clarita Runners.
President Eddy presented Ms. Starkey with a Pin and asked her to read aloud the Mission Statement and Brand Promise.
The President then asked members and guests to write down why they joined the organization, what they would like to gain from their experience as members and what values mean to them.
"When we looked at the feedback to these questions, the top three answers from attendees were networking, social camaraderie and friendship," said Santa Clarita President Dare Eddy.
Next, Santa Clarita member Patricia Williams, a former Vice President in the healthcare industry, delivered her presentation, "Communication & Negotiation."
"Ms. Williams' business presentation in basic communication and negotiation skills was excellent. She focused on the basic skills of handling challenges and finding solutions to some of the common situations in business," said Chapter President Eddy. "Ms. Williams provided some useful presentation handouts to everyone."
The second presentation of the evening was given by Grace Lee, of Grace Lee International. Her topic was "First Impressions for Successful Ladies."
"Ms. Lee's expertise in 'social graces' sparked fresh energy in the room as she demonstrated some of the basic business etiquette such as how to properly sit down, table manners and greetings in meeting, as well as in social situations," said President Eddy.
Expanding on her team-building presentation at last month's Chapter meeting, Ms. Eddy began her talk about "Leadership, Ethics & Values."
President Dare shared her "hands-on" experiences in corporate team building in multicultural companies.
As a Management Consultant in her 20's, Ms. Eddy traveled throughout the United Kingdom and Southeast Asian countries. She said that "different clients have different purposes and needs…we must custom tailor accordingly."
She told the group of professional women that what she truly enjoyed about being a Management Consultant was traveling around the globe.
Since the Santa Clarita Chapter is still growing, and team building is rather important in the process of growing, President Eddy said it would be ideal to role play some of the team-building exercises.
Team-building activities can be used by any business, large or small, to promote better teamwork in the workplace, the President told the group.
She noted that most of the business owners and managers in the room knew that great teamwork is one of the key factors associated with a company's success.
"Building ethical teams is a leader's responsibility," said Chapter President Dare Eddy. "Leadership is very important for success in the business world. An effective leader must encourage team building among employees, as well as ethical standards."
The Chapter President said that teamwork still requires leadership, where a leader helps to set the tone and arbitrate conflicts, while intelligent adults use their abilities and share responsibilities to tackle large projects.
A leader sends the signal from the top down that people should respect others and listen to their ideas. A leader should therefore lead by example, she told members and guests.
"The group had so much fun interacting with other team members in a collaborative and team environment," said President Eddy. "We want to continue applying some of these creative team-building techniques in our group."
Chapter President, Nicky Dare concluded the team-building presentation by stating what "integrity" means: Doing the right thing, even when no one is watching.
Ms. Dare shared a story that recently happened to her and her husband when they went to a grocery store.
They bought a rack of ribs, came home, had the ribs for dinner and realized that the store cashier forgot to charge them for the ribs they had just eaten. She looked for the receipt in the trash and went back to the store with her husband, and spoke to the manager.
She told the manager about what had happened and paid for the ribs.
"The manager was surprised and told us he had never had any customers like us and thanked us for our honesty. I told him I just want to sleep good tonight," said Chapter President Eddy. "That is what we call integrity."
Everyone in the room applauded and thanked Ms. Eddy for sharing her experiences.
The Chapter President asked the group what integrity means to them and told them they should apply this in business, social and their personal lives.
After the presentations, the group of professional women discussed Chapter business.
The President announced Corporate news and the latest Chapter updates such as the National Networking Conference in New York on April 26th and the Southern California Presidents Joint Meeting (quarterly) that was held on January 31st in Burbank.
President Dare reminded attendees that she maintains diligent updates on local calendars of the Chapter's upcoming meetings and events in local prints, magazines and newspapers and City of Santa Clarita calendar.
The Chapter President reminded members about the Santa Clarita Local Chapter T-Shirts. The deadline to order them is April 30th.
The following Santa Clarita Chapter Board Positions are open: Photographer and Social Media/ Admin; both are 3-month term positions. Dare asked if anyone is interested in these roles, to see her after the meeting.
The group of professional women also continued their discussion about their 72-hour "Survival Bins" of the month: TOOLS/KITS.
The SCV Chambers of Commerce Annual Business Expo will be held on Sunday, October 19th from noon to 9:00pm. It will be held at the Main Street Old Town in Newhall. Booth Cost: $250/member; $600/nonmember.
As a tradition, Chapter President Dare concluded the dinner meeting by asking everyone in the room to network by exchanging their business cards. She also asked members and guests to submit any new suggestions for future meetings, projects, ideas.
The next Santa Clarita Chapter meeting is Sunday, May 19th at Marie Callender's in Valencia.
Attendees included: Nicky Dare: Founder, iDARE®, Inc. and GMMC Global Meta Management Consultants, Ltd; Terese Anthony: Director Marketing of Hero's Pride; Nina Baca: Owner of Altha Private Security Services, Inc.; Erica Bristol: Owner and Mediator of Erica Bristol, Esq., specializing in business and personal dispute resolution; Laetitia "Tish" A. Dawson: Finance Manager of PPG Aerospace Transparencies plant, specializing in Manufacturing Accounting; Margarita Goldberg: Realtor of Kaballa Enterprises; Teri Hutchison: Managing Director, Pensionmark Retirement Group; Grace Lee: Founder of Grace Lee International, which specializes in social graces and international business etiquette decorum; Andrea Moroso: Business Development Manager of Accounting Principals; Sharon Nunn: Homestylist and Owner of Details and Style; Ada Villanueva: AIM Star Network Business Owner and Business Associate to Nerium AD products; Patricia Williams: Patricia Williams B.A., ARRT, Procurement in Health Care; Kathleen Starkey: Public Relations Coordinator at Samuel Dixon Family Health Centers, Inc.
The National Association of Professional Women (NAPW) is the largest and most recognized network of female professionals. NAPW provides a forum where women can interact, exchange ideas, educate, network, and empower. NAPW Local Chapters allow members to maximize their experience through meetings, networking opportunities, and professional events.
For additional information regarding the NAPW Santa Clarita, CA Local Chapter and/or NAPW, please visit http://www.napw.com.