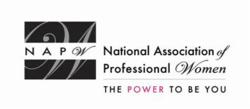 May is National Military Appreciation Month and this is a great way for the Chapter to become involved. 'Cell Phone for Soldiers' is a nonprofit organization dedicated to...
Garden City, NY (PRWEB) May 14, 2013
Members and guests of the NAPW Southeastern- Michigan Chapter gathered on April 23rd for a professional networking meeting at Jimmy Dee's Restaurant in Clinton Township, MI on April 23rd.
Since May is National Military Appreciation Month, the group of professional women discussed how they could support U.S. troops stationed overseas.
Virginia Gronley, Southeastern Michigan Chapter President, kicked off the meeting by welcoming everyone with a short introduction.
She then engaged members and guests in a fun icebreaker activity that involved the use of a thumb and soft ball with various phrases on the ball.
"The idea is to pass the ball around the room. Whichever phrase on the ball your right thumb lands on is the phrase you have to talk about while introducing yourself," the Chapter President explained to the group.
For example, when it is a member's turn and her thumb positions itself on the quote 'most memorable moment' the member would state her name, where she works and describe her most memorable moment."
This particular thumb ball's theme was, "Getting to Know You." Virginia explained that these and other ice breakers can be ordered through Trainers Warehouse.
The meeting then proceeded with a presentation by the Chapter President on "Cell Phones for Soldiers." This is the charity that the Southeastern Michigan Chapter will participate in from April 23rd to May 28th.
"May is National Military Appreciation Month and this is a great way for the Chapter to become involved. 'Cell Phone for Soldiers' is a nonprofit organization dedicated to providing free means of communication to men and women serving in the United States military," said the Chapter President.
The charity has raised more than $7 million in donations and has distributed more than 2,000,000 prepaid calling cards to troops overseas. The money is raised through the collection of old cell phones, which are either refurbished or sold/recycled. This is a great opportunity to help more than 290,000 troops overseas stay in contact with their loved ones for free.
The presentation, donation form, cell phone fact sheet, and poster will be posted on the Southeastern Michigan Chapter Facebook Page to be available for downloading for the Chapter members. All phones will be collected at the May 28th Chapter meeting.
The group of professional women then discussed possible topics for future meetings. Some of the ideas discussed were: photo day to get a professional head shot done, leadership training, and resume tips. The full list will be published to the Chapter Facebook Page and will continue to be updated as requests come in.
"The goal of the Southeastern Michigan Chapter is to participate in a charity at least once per quarter as a way to give back to the community," said Virginia. "A list has been developed based on discussions with members' on ideas for charities. The list will also be published on the Chapter Facebook page.
It was announced that there has been some interest in developing a Chapter Board. The Chapter President drafted a brief role description for Chapter Vice President, Chapter Secretary, and Chapter Event Planner.
Any Southeastern Michigan member who is interested will need to advise the Chapter President so that the members can vote if more than one party is interested. At this point in time, the Secretary is on a rotating basis.
Laura Schruba and Debbie Hogan were the proud winners of the $25 gift cards.
Members were reminded to check the Chapter Wall Facebook Page and e-mail to stay updated on meeting changes.
Members in attendance: Virginia Gronley - Chapter President, Learning & Development Consultant of DuPont Performance Coatings LLC. She has a passion for photography, is a Thirty One Gifts Independent Consultant and has recently started a new business VLG Endeavors, LLC focusing on Leadership and personal development.
Debbie Hogan; Payroll Associate at Henry Ford. She is looking forward to networking and career opportunities.
Laura Schruba; Controller with Olympic Steel for ten years. She is also interested in becoming a board member.
The National Association of Professional Women (NAPW) is the largest and most recognized network of female professionals. NAPW provides a forum where women can interact, exchange ideas, educate, network and empower. NAPW Local Chapters allow members to maximize their experience through meetings, networking opportunities, and professional events.
For additional information regarding the NAPW Southeastern Michigan Chapter Local Chapter and/or NAPW, please visit http://www.napw.com.