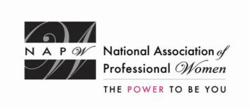 Everyone enjoyed learning more about what we each do and this led to a lively networking session.
Garden City, NY (PRWEB) February 26, 2013
Members and guests of the NAPW Springfield, MO Local Chapter gathered on February 8th for a professional networking luncheon at Houlihan's Restaurant, 2110 E. Republic Road in Springfield.
The group of professional women had the opportunity to network and get to know one another, as well as support and applaud each other's achievements.
NAPW Springfield Local Chapter President Sherri Bollinger, CIT, kicked off the luncheon by welcoming everyone to the meeting. She briefly spoke about the Springfield Chapter meeting agenda and upcoming opportunities and events published on napw.com.
"I invited all of the members to introduce themselves and share why they enjoy being a NAPW member." she said.
"Everyone enjoyed learning more about what we each do and this led to a lively networking session."
Sherri also recognized a number of Springfield NAPW Chapter Members who were recipients of the NAPW VIP Woman of the Year for 2012/2013. They were Dianna Thimesch and Heather Rooney McBride, who were present at the February event, as well as Glenda Beach and Jessica Wodohodsky, who were not at the meeting.
"Great job ladies!" said the Chapter President.
Many members have offered assistance with meeting venues, speakers, member calls, planning, etc. Michele Kiser agreed to assist with upcoming media options for producing exposure for the Springfield Local Chapter.
All of the attendees agreed that the guest speaker for the April Chapter meeting would be a representative from the local charity W. I. N (Women in Need). The Chapter President agreed to follow up with the contact for W.I.N.
Springfield Local Chapter meetings are held on the second Friday of each month at 12:00pm and will be moved (for convenience to all) to various locations around the Springfield area.
The next Chapter meeting will be held on Friday, March 8th at the Terrace Grill (inside University Plaza) in Springfield. The Springfield Chapter meetings are posted on the Springfield Chapter Page on napw.com.
The following members were present at the February Springfield Local Chapter meeting: Angela Cave: Branch Manager of Manpower in Springfield. Angela specializes in workforce solutions that enable clients to achieve their business goals and enhance their competitiveness. Her hobbies and interests include reading, pottery, and gardening.
Michele Kiser: Owner of Advertising Plus, Inc. Michele specializes in advertising and selling promotional products for businesses. As an Owner of a business, Michele understands a logo is one of the most important elements of a business and promoting it with the perfect promotional materials is a must. Michele's hobbies include golf and anything outdoors.
Heather Rooney McBride: Rooney, McBride & Smith, LLC, Attorneys at Law. Heather is Founding Member of Rooney McBride & Smith, LLC. After practicing with a large civil litigation firm and mid-sized general practice, Heather elected to open her own law practice in 2011. Much of her practice is devoted to assisting clients with their estate planning needs along with negotiating and drafting real estate, construction, employment, and other types of commercial contracts.
Raylene (Janice) Simons: Corporate Trade Compliance Manager of IDEX Corporation. Raylene specializes in corporate trade compliance for IDEX Corporation. IDEX is a global provider of applied solutions serving a variety of markets including life science and medical technologies, process industry and infrastructure related applications, industrial/municipal fire and rescue. Raylene is involved with her local church and in her spare time enjoys quilting, biking, and reading.
Dianna Thimesch: Missouri State University TRIO Programs. Dianna is the Assistant for the Missouri State University TRIO program. The TRIO program is an outreach and student services program designed to identify and provide services for individuals from disadvantaged backgrounds. Dianna also spent five years with the Ozarks Public Television raising just under $1 million dollars for the organization. Her hobbies include reading, riding motorcycles, and taking trips, and she enjoys her time with her granddaughters and family.
Sherri Bollinger, CIT: Sales Account Manager/Systems Specialist for Tech Electronics. Sherri specializes in low voltage systems and is responsible for sales, estimating, and account management for Tech Electronics Southwest Missouri construction market. She has 20 years in the construction industry with expertise in project management, safety, accounting, sales, and marketing. Her hobbies include boating, fishing, swimming, and being outdoors with family and friends.
The National Association of Professional Women (NAPW) is the largest and most recognized network of female professionals. NAPW provides a forum where women can interact, exchange ideas, educate, network, and empower. NAPW Local Chapters allow members to maximize their experience through meetings, networking opportunities, and professional events.
For additional information regarding the NAPW Springfield, MO Local Chapter and/or NAPW, please visit http://www.napw.com.