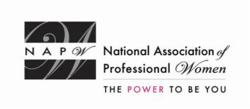 Attendees mingled around the beautiful, members-only club, introduced themselves to other members and their guests, and were treated to tours of the Founder's Room...
Garden City, NY (PRWEB) January 08, 2013
To kick off the start of the holiday season, members and guests of the NAPW Suffolk County, NY Local Chapter gathered on November 29th for a holiday networking event at the Paramount Theater, located at 370 New York Avenue in Huntington.
Planned by NAPW Suffolk County, NY Local Chapter President Jennifer Makaw and Vice President Merav Shiloni, the holiday mixer was a chance for members of both Nassau and Suffolk County Chapters to eat, drink, mingle, and network in the theater's exclusive, members-only Founder's Room. In addition, the group of professional women was also invited to attend The Paramount's scheduled concert that evening, free of charge.
The festivities began promptly at 6:00pm, when NAPW members and guests were greeted with complimentary wine and raffle tickets. After signing in, attendees were given name tags. Raffles were bought by NAPW for members attending the dual Chapter holiday mixer. Throughout the evening, Photographer Tracy Davern snapped candid and posed photos of attendees. "The holiday event was a huge success, with an excellent turn out from both Chapters," said Suffolk County Chapter President Jennifer Makaw.
"The attendance at this event was the highest ever for any Nassau, Suffolk, or combined Local Chapter meeting," she said. "Attendees mingled around the beautiful members-only club, introduced themselves to other members and their guests, and were treated to tours of the Founder's Room. Most enjoyed were the 'Shawshank' room and the 'Burlesque Room' that has a hidden entrance built into a wall to look like a book shelf."
Members and guests enjoyed a delectable spread of food that included fish, chicken, pasta, salad, and bread, all prepared by the chef at the Founder's Room. To encourage optimal networking and mingling of guests, Suffolk County Local Chapter President Jennifer approached each member and offered them the opportunity to get another raffle ticket by moving around the room, introducing themselves to people they had not already met, and exchanging business cards.
"The attendees saw this as a sort of game and were very accommodating," said Jennifer. "And it resulted in members and guests meeting many more people than they would have had they only stayed within their own, comfortable groups."
At 7:45pm, members and guests gathered to take a group photo and then raffle tickets were pulled and prizes were handed out. But the celebration didn't end there. The Paramount was having a concert the same night: A Travis Tritt Christmas, and at 8:00pm, all attendees were given a poster of the event and invited to attend the concert free of charge.
"Many of the members and guests who attended the holiday mixer went to the show and had a great time," said Jennifer.
The concert was opened by Sarah Highland who has a wonderful voice and put on a great performance. Travis Tritt took some time to come out on stage, but held true to his five-time Grammy winning status by putting on a true country performance with holiday favorites mixed into his play list, the first of which was the classic "Silver Bells."
"Thank you to all members and guests for attending our joint Chapter holiday event. A very special thank you to Merav Shiloni for helping to plan such a successful event," Jennifer said. "I would like to thank The Paramount and staff of the Founder's Room for accommodating our holiday mixer and helping us to pull off such a wonderful event. A great time was had by all."
The National Association of Professional Women (NAPW) is the largest and most recognized network of female professionals. NAPW provides a forum where women can interact, exchange ideas, educate, network, and empower. NAPW Local Chapters allow members to maximize their experience through meetings, networking opportunities, and professional events.
For additional information regarding the NAPW Nassau and Suffolk Counties Local Chapters and/or NAPW, please visit http://www.napw.com.
Follow NAPW on Facebook and Twitter.
###