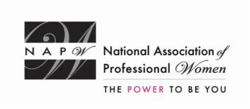 The primary purpose of the Meet & Greet is to network with the community with the goal of growing our business,
Garden City, NY (PRWEB) April 16, 2013
Members and guests of the NAPW Temecula, CA Local Chapter gathered on March 19th for a professional networking meeting at the Olive Garden Italian Restaurant in Temecula.
The group of professional women enjoyed an evening of good food, great networking, and making plans for an upcoming Meet & Greet event that will be held on April 11th at Cellarz93 Restaurant and Wine House in Temecula.
Aminah Johnson, Temecula Local Chapter President, welcomed members and guests to the meeting.
Everyone joined her in extending a warm welcome to Debra A. Keena and Michelle Verdugo, two first-time attendees. She and the other members introduced themselves.
"We provided updates on the professional goals we had set individually for the year and introduced ourselves to Debra and Michelle," she said.
The next item of business was to bring all members and guests up-to-date on the progress of the Temecula Chapter's first Meet & Greet.
The subcommittee responsible for planning this event is comprised of the following members: Sheila Cohen, Chair; Terri Parker, Committee Member; Zoe Aldrich, Committee Member; Patricia Rendl, Committee Member; and Laurie Barron, Committee Member.
Due to Patricia Rendl's extremely busy schedule at this time, she asked to be replaced on the sub-committee.
"The primary purpose of the Meet & Greet is to network with the community with the goal of growing our business," said Aminah.
"The theme for the event is "Spring Fling; Grow Your Business."
The Chapter President asked each member what she hoped to gain from the event: Sheila Cohen felt the goal for her was to build relationships and meet new clients; Debra Keena will be traveling but wants to attend other events in the future to get to know everyone and establish contacts in the community; Michelle Verdugo said her goal is to gather contact names for potential new clients; Patricia Rendl hopes to build relationships and gain new contacts; Zoe Aldrich hopes to gain new contacts; Terri's goal is to build relationships and gain new contacts; and Aminah hopes to gain new area contacts and build relationships within the community.
Chapter members Sheila Cohen, the Subcommittee Chair, went over the agenda for the event with all in favor of the timeline. Michelle Verdugo volunteered to be the event's guest speaker and will deliver a presentation on "Health, Lifestyle and Success with Michelle Verdugo."
Zoe Aldrich reported that she and Patricia had visited the site on Saturday, March 17th. Zoe confirmed there will be a microphone provided by the restaurant as well as a baby grand player piano for background music. A banner will be proudly displayed.
Sheila and Terri will be the RSVP contacts for the event and Aminah will alter the flyer to reflect the addition of Terri.
Members and guests were asked to please contact Zoe three business days prior to the event so she can confirm the number of attendees with the restaurant for a food count.
Michelle and Zoe will get together to create the table centerpieces, which will be given as door prizes. Other prizes are to be provided by attendees.
For an icebreaker and networking session, Michelle suggested using a sticker theme for creating interaction between attendees by matching various designs to like designs, and also by giving a prize to the attendee who has collected the most business cards by the end of the event.
All members liked this idea and Aminah will create the stickers for the contest.
Aminah created the design for the event's invitation post cards and sent it out to all members to review. All agreed the design was perfect with no corrections needed. Terri will print out the cards and Zoe will provide the brochure paper for printing. All members will pick up their cards from Terri at the HomeSmart office once they are ready.
Terri will create an article for publication and will post the article in the Temecula website and The Meet Up.
Sheila will post event details on the Chapter Page and the Community Wall. The fee for the event is currently $30 per member, due to the need for table decorations, cards, stickers, etc. All checks should be made payable to Aminah Johnson and delivered to her.
Attendees at the Temecula Chapter meeting in March were: Aminah Johnson; Co-Founder of Aminah Enterprises, Group Bookings Refined. She is a 15-year veteran in hospitality. Aminah Enterprises is a site selection firm for group housing needs.
Terri Parker; Realtor for HomeSmart, has hired Bryan Buffini & Co. as her personal coach and is seeing a significant improvement in her focus on her business as well as increased listings and sales.
Zoe Aldrich; Realtor in training for Tarbell Realty, is still waiting for a test date from the state for her real estate exam. She is moving forward with creating a database of contacts for potential clients and referrals.
Patricia Rendl; AllStar Bookkeeping and Payroll, is very busy with meeting corporate and individual tax deadlines this month and next. Patricia provided an update on her goal of five new clients and told the group she has gained a new client who has referred her to another person she hopes to add to her client list.
Sheila Cohen; Realtor for Keller Williams and Co-Owner of a local coffee shop, said she and her husband are selling their coffee shop business. She is looking to join a nonprofit organization locally so that she will not have to travel as much as she currently does.
New Attendees: Michelle Verdugo; Body and Soul Transformation Coach for executives, explained about how her business helps busy executives lead a healthier and stress-free life.
Debra Keena; Staff Vice President of Wellpoint, described her position and explained how the different types of insurance will be in play due to Obama Care. She says she travels a lot and her main focus in her job is to "mentor to success" the persons she manages.
The National Association of Professional Women (NAPW) is the largest and most recognized network of female professionals. NAPW provides a forum where women can interact, exchange ideas, educate, network, and empower. NAPW Local Chapters allow members to maximize their experience through meetings, networking opportunities, and professional events.
For additional information regarding the NAPW Temecula, CA Local Chapter and/or NAPW, please visit http://www.napw.com.
Follow NAPW on Facebook and Twitter.
###