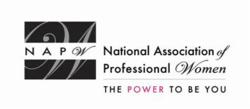 This was a happy ending to an awesome year...We aren't just another women's networking organization. Our goal is to support, encourage, cross market, and...
Garden City, NY (PRWEB) January 22, 2013
Members and guests of the NAPW Waldorf, MD Local Chapter came together on December 18th for a celebratory networking meeting at the Royal Tea Room located in La Plata, MD. Over tea, the group of nearly 20 professional women commemorated the Chapter's many accomplishments and events of 2012. The Chapter also named member Monique Gaskins its first Ms. NAPW.
From hosting inspiring guest speakers to holding workshops on a vast array of topics that included how to make healthy food choices and how to grow your small business to giving back to the community, the NAPW Waldorf Local Chapter accomplished much at its monthly meetings this past year. The year-end networking event was the perfect venue to celebrate these all of these endeavors.
"We reviewed our accomplishments for 2012," said NAPW Waldorf Local Chapter President Tammy L.S. Wright. "We had an awesome time and crowned our first Ms. NAPW! Our selection was Monique Gaskins. Whew, what a year and it can only get better so step on board as we move forward into 2013!"
Monique Gaskins was selected Ms. NAPW because she met all of the criteria: taking on a supporting role in the Chapter, attending scheduled meetings, volunteering for outreach missions, referring potential new members, participating in all meetings and events, and showing support of social media.
"This was a happy ending to an awesome year," said Tammy. "We aren't just another women's networking organization. Our goal is to support, encourage, cross market, and most importantly, build professional and business relationships."
Here is the Waldorf Local Chapter's 2012 Snapshot:
The Chapter kicked off the year with its first yearly calendar and selection of Chapter Committee Members. In March, Marcia Keeth; Director of Economic Development Department, provided an overview about the programs and resources available to assist small business. She also discussed her role and the steps Charles County is taking to help small businesses.
In April, Wanda Childs, Entrepreneur, Author, and Speaker, shared with members and guests that her purpose is to encourage and motivate others to be obedient when God is calling them into their purpose. Often we are not walking in our purpose and we miss our blessings because of fear and lack of faith, she told the crowd.
During the monthly Chapter meeting in May, members and guests received an updated version of the 2012 yearly calendar and the Chapter moved forward with becoming active in outreach within the community. The Chapter established its Facebook page (NAPW Waldorf Chapter) and everyone was encouraged to visit the page and Like it. Seven members of the Waldorf Chapter attended NAPW's Annual Conference in New York.
Chapter President Tammy L.S. Wright; Co-founder/Co-owner of ABC Wellness & Fitness Center presented on how to make health food choices for food cravings and reading the label at the June Chapter meeting. She divided everyone into groups and they had to create a meal. Tammy took a few moments to share tips on how to read food labels and how to count calories. She also discussed how to satisfy unhealthy food cravings with healthier options.
Kelley Perry, Life Strategist and Small Business Start-Up Coach and Vice-President of the NAPW Waldorf Local Chapter, also spoke at the June meeting. She informed everyone of the criteria of Ms. NAPW and encouraged everyone to get involved: Ms. NAPW is a well-rounder professional who supports the vision, activities, outreach, and recruitments of other professional women. Ms. NAPW is not someone who "just" attends the monthly meetings; she is an active person who gets the job done.
In July, Tammy and Kelley went over the contents of the NAPW website and shared with the group of professional women the benefits of being a part of NAPW. They talked about the different classes available and how members could take advantage of NAPW's Business Resource Center and Lenovo savings.
At the end of the summer, the Waldorf Chapter donated several bags of women's shoes to a shoe drive for the LifeStyles of Maryland Foundation, Inc.
The Chapter kicked off the fall season with a number of motivating speakers. Delatorro McNeal; Professional Speaker, was the guest speaker in September. He encouraged attendees to have a "Yes Attitude!" and presented his Five Pillars of Success. In October, the guest speaker for the evening was Cheryl Wood, Fearless Living Strategist. Cheryl encouraged the group of professional women to "ignite their Fearless Factor to succeed in life and business." Cheryl informed attendees to start their plan of action now and not wait until January 1 to create their "shift."
The Chapter President presented at the Chapter's November meeting, where she spoke about the importance of having an "elevator pitch – it can hurt or land you big business within 30-60 seconds." She talked about how we have only a few seconds to grab a person's attention and make a lasting impression. Tammy provided the Eight Elements of a Powerful Elevator Pitch: Concise, Clear, Powerful, Visual, Tell a Story, Targeted, Goal Oriented, and Has a Hook.
The National Association of Professional Women (NAPW) is the largest and most recognized network of female professionals. NAPW provides a forum where women can interact, exchange ideas, educate, network, and empower. NAPW Local Chapters allow members to maximize their experience through meetings, networking opportunities, and professional events.
For additional information regarding the NAPW Waldorf, MD Local Chapter and/or NAPW, please visit http://www.napw.com.
Follow NAPW on Facebook and Twitter.
###