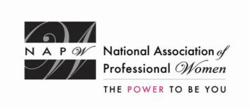 It's so important that we never lose sight of our dreams," said Tammy "Kelly shared some really great tips that we should all take advantage of.
Garden City, NY (PRWEB) February 13, 2013
Members and guests of the NAPW Waldorf, MD Local Chapter gathered on January 15th for a monthly networking meeting at Quality Printers in White Plains.
The Chapter Vice President, Kelley Perry, shared with the group of professional women five important keys to getting motivated and inspired when it comes to starting, continuing, or keep going after their dreams.
The Vice President read aloud a quote from famed abolitionist Harriet Tubman: "Every great dream begins with a dreamer. Always remember, you have within you the strength, patience, and the passion to reach for the stars and change the world. "
That inspiring quote set the tone for the evening during which Kelley helped attendees learn how to unlock their potential, get motivated, and realize their dreams. She shared a part of her story with members and guests, including why it was so important for them not to give up.
The Chapter Vice President asked the group of professional women to write down what their dreams will be five years from now. After the women wrote about what they hope to be doing in five years, Kelley showed them how to take the dream and set up 'bite-sized' goals to achieve it.
"I am going to share with you five important keys you may use to pursue your dreams," said Kelley. Start by writing a dream down and be very detailed; Kelly shared a few examples. Then write 'Why' - Why is someone's dream important to them? The why will be their motivation when the journey to their dream gets rocky and tough. Create bite-sized steps - Create small steps so you do not become overwhelmed. Take action daily on your dream - Every day, commit a determined amount of time to their dream. The last and fifth step includes creating a Dream Team – They should have a team of people (2-3) that is there to encourage them, to remind them of their commitment, and to cheer them on.
At the conclusion of the presentation, the Chapter Vice President had everyone take the dreamer's profile test to find out what kind of dreamer they were. She asked if anyone wanted to share her dream and the three goals she would put in place this month to jump-start it. All of the attendees agreed to share and the women were motivated and inspired by each other's aspirations and goals.
"It's so important that we never lose sight of our dreams," said Tammy "Kelly shared some really great tips that we should all take advantage of."
The next Waldorf, MD Local Chapter meeting will be held on Tuesday, February 19th at 6:30pm at ABC Wellness & Fitness Center, located at 3010 Crain Highway, Suite 100, Waldorf, MD 20601.
Kelley Perry, Jesseca Perry, Noah Perry, Kristina Perry, and Iris Mayo were in attendance at the January meeting.
The National Association of Professional Women (NAPW) is the largest and most recognized network of female professionals. NAPW provides a forum where women can interact, exchange ideas, educate, network, and empower. NAPW Local Chapters allow members to maximize their experience through meetings, networking opportunities, and professional events.
For additional information regarding the NAPW Waldorf, MD Local Chapter and/or NAPW, please visit http://www.napw.com.
Follow NAPW on Facebook and Twitter.
###