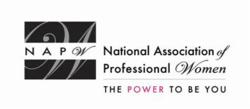 The technique can be a very powerful, multi-purpose healing art/obstacle remover and can even be used to tap out/improve relationships.
Garden City, NY (PRWEB) May 09, 2013
Members and guests of the NAPW Warwick Local Chapter gathered on April 24th for a professional networking meeting at Chianti's Restaurant in East Greenwich, RI.
The Chapter hosted Lisa Gutierrez, a local Hypnotherapist and Health Educator, who demonstrated to the group of professional women how a "tapping" technique known as the Emotional Freedom Technique can help reduce stress and anxiety.
"The Warwick Chapter's April meeting was very interesting!" said Chapter President Piper Bewlay.
"Members and guests networked and enjoyed a unique presentation by Lisa Gutierrez."
After a lively networking session before dinner, the group of professional women listened attentively to invited guest speaker Lisabeth Gutierrez, a local Hypnotherapist and Health Educator.
Ms. Gutierrez spoke on the subject of EFT, which stands for Emotional Freedom Technique. This is a relaxation strategy also known as "tapping" that targets specific stressors by tapping on pressure points located on a person's body. Ms. Gutierrez has over 25 years of experience in adult education, mind/body medicine, counseling, and integrative therapies.
The speaker informed members and guests that this technique was developed in the early 1990's by founder, Gary Craig, a Stanford graduate engineer who was trained by clinical psychologist Dr. Roger Callahan using Thought Field Therapy. He created "algorithms" for tapping on specific acupuncture points to aid in the healing of specific ailments and dysfunctions. These therapies were created to help people with unusual fears such as the fear of water.
"She told us several stories about various patients who were cured of their fear of water, nerve pain in arm, and stress/post-traumatic stress syndrome using the 'tapping' techniques," said the Chapter President.
While she noted it is not a remedy, it does provide a therapeutic benefit to the central cortex, calm center of the brain for those open to it. It helps to shift thoughts, feelings, emotions to "change your thoughts… change your world." Ms. Gutierrez told the group that anyone can even practice this for just five minutes a day, as a calming meditation.
Members of the group shared examples of fears they have encountered, asking if this might be a solution to overcoming those fears.
"This is a natural method of dealing with an issue rather than resorting to medications," said Ms. Gutierrez.
"The technique can be a very powerful, multi-purpose healing art/obstacle remover and can even be used to tap out/improve relationships."
The guest speaker provided a handout with general reassurance statements and questions to use when tapping that included an invitation to attend her Thursday evening sessions, Develop Your Intuition from 6:00 to 8:30 pm in The Elephant Room, a tea room in Cranston, RI.
"Lisabeth conducted a demonstration, then we all practiced tapping techniques, which was rather comical in the middle of a restaurant, between our eyes, side of eye nearest temple, under eye, under collar bone and on the inside of our wrist," said Pipier.
"We repeated the statements she made as we were tapping, and she measured the results."
Members and guests all agreed they felt calmer and the numerical measurements used to determine effectiveness were reduced and very positive with each round of tapping. Her contact information was given to members: Lisabeth Gutierrez-Right Brain Life.
Members and guests wrapped up the meeting by posing for the camera with the organization's banner.
A reminder was provided for folks to attend the Chapter's next meeting on Wednesday, May 22nd, which will include a presentation of Habitat for Humanity. The Chapter President reminded members they are welcome to bring a guest.
Attendees attending were affiliated with various companies, organizations and career paths:
Pipier Bewlay and Joyce Hurlbut; Cox Communications; Lauren Silveira; Crimson Rose Int'l/Organized for Life; Diane Dowiot; Jewish Seniors; and Peg Connolly; inVentive Health.
The National Association of Professional Women (NAPW) is the largest and most recognized network of female professionals. NAPW provides a forum where women can interact, exchange ideas, educate, network, and empower. NAPW Local Chapters allow members to maximize their experience through meetings, networking opportunities, and professional events.
For additional information regarding the NAPW Warwick, RI Local Chapter and/or NAPW, please visit http://www.napw.com.