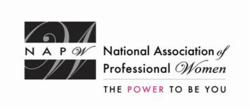 After hearing the information Ms. Hanner provided, we are excited to know of a way to help others in our community!
Garden City, NY (PRWEB) June 05, 2013
Members and guests of the NAPW Warwick, RI Local Chapter gathered on May 22nd for a professional networking meeting at Chianti's Restaurant in East Greenwich.
The group of professional women enjoyed an evening of networking and discussed with Habitat for Humanity for Rhode Island-Greater Providence representative, Connie Hanner, how the Chapter could work with the local nonprofit to give back to the community.
Warwick Local Chapter President Pipier L. Bewlay welcomed members and guests to the monthly meeting.
After attendees had the opportunity to network and learn more about each other, she invited the guest speaker to take the floor.
Ms. Hanner told the group how Habitat for Humanity International was founded in 1942 in a small farming community near Americus, GA.
Habitat for Humanity International is the "world's largest nonprofit housing developer" and was built on the premise that "everyone has the right to live in a decent, affordable home, regardless of race, color or creed."
The organization's goal is to improve the living standard from poverty to decent housing.
The interests of Habitat were later propelled by Jimmy and Roslyn Carter, making it one of the top five charities in the United States.
The guest speaker explained to the group of professional women how the nonprofit works.
Habitat for Humanity provides no interest loans through Mortgage Solutions, which are paid back over 30 years and have one of the lowest foreclosure rates.
Habitat for Humanity–Greater Providence makes a 20 to 30 year commitment to the families they service, primarily in the Providence, Pawtucket and Central Falls areas of Rhode Island.
There is a rigorous qualification process, including a requirement of "sweat equity" – meaning the family members must work to build their home and provide some money down so they have a vested interest in the property. There is a $75,000 to $100,000 corporate investment in each house built. Habitat for Humanity-Greater Providence is funded through tax deductible donations.
Connie Hanner spoke to members and guests about the Carpenter Club, the primary vehicle used to collect private donations of just $20 per build (not to exceed $200 annually). Carpenter Club benefits include:

You are personally helping to end poverty housing in your community.
You can meet partner families and work side-by-side on the job site.
You will receive discounts at the Providence ReStore opening soon!
You will receive a receipt for each tax-deductible donation.
You will be invited to participate in any "construction day" of your choosing. (No experience necessary to work on the job site.)
You will receive updates on the construction process and family progress in our newsletter.
"Members of our group were surprised to hear that Habitat for Humanity does not give away free houses. Many of us thought there was no monetary interest on behalf of the families receiving a new home and it was enlightening to hear that there was a challenging process in place in determining eligibility," said Chapter President Pipier Bewlay.
A handout was provided with information about the Carpenter Club including Ms. Hanner's contact information and the following website address for making donations: habitatprov.org.
For more information about this worthy, life-changing cause, contact Ms. Hanner at conniehanner(at)habitatprov(dot)org
"After hearing the information Ms. Hanner provided, we are excited to know of a way to help others in our community!" said President Bewlay.
"We wrapped up the night by posing for the camera with our NAPW banner!" said President Bewlay. "A reminder was provided for folks to attend our next meeting (and all were encouraged to bring a guest) on Wednesday, June 26th; our topic will be forthcoming."
Attendees attending the May Warwick Local Chapter meeting were affiliated with various companies/organizations: Cox Communications–Pipier Bewlay and Joyce Hurlbut; Crimson Rose Int'l/Organized for Life–Lauren Silveira; Tudor Doctor─Patti Avin, Shannon Salisbury of NC3 and Tracey Renzi with Johnson & Wales University.
The National Association of Professional Women (NAPW) provides a forum where women can interact, exchange ideas, educate, network and empower. NAPW Local Chapters allow members to maximize their experience through meetings, networking opportunities, and professional events.
For additional information regarding the NAPW Warwick, RI Local Chapter and/or NAPW, please visit http://www.napw.com.
Follow NAPW on Facebook and Twitter.
###