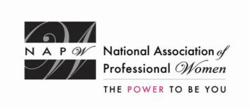 ...the Westchester County Local Chapter is continuing to grow," Sara said. "We're increasing our membership, which in turn, allows us to increase the networking and business opportunities we can offer our members and sponsors."
Garden City, NY (PRWEB) January 15, 2013
Members and guests of the NAPW Westchester County, NY Local Chapter gathered on December 20th for a professional networking meeting and holiday mixer at Caffé Azzurri. The event celebrated the conclusion of a successful year for the Chapter. It was sponsored by six companies who introduced their products and services to the group of professional women. Each business also contributed a corporate gift to the Holiday Grab Bag Gift Exchange.
Caffé Azzurri once again proved to be the perfect venue for a Westchester County Local Chapter meeting. Festive decorations and delicious food added to the celebratory feeling at the holiday mixer. NAPW Westchester County Chapter President Sara O. Speicher welcomed members, guests, and sponsors by wishing everyone a happy holiday season and a new year filled with health, happiness, and prosperity.
"Although this has been a year of ups and downs, we should remain focused on the positive things that have happened and keep our spirits, hopes, and goals high in the upcoming year," said the Chapter President.
Sara spoke about how this year has been an exciting time for the Chapter. Since its summer launch, when Sara took on the position of President and Crystal M. Cutler became Vice President, the Chapter hosted its first guest speakers; supported an Alzheimer's Association Walk; and donated to My Sister's Place.
"And the Westchester County Local Chapter is continuing to grow," Sara said. "We're increasing our membership, which in turn, allows us to increase the networking and business opportunities we can offer our members and sponsors."
The Chapter President also thanked Crystal Cutler, the Chapter Vice President for all of her help, ideas, and hard work in getting the Chapter up, running, and growing.
"I am so grateful for Crystal's knowledge and experience when it comes to Chapters and Boards. She has proved to be invaluable to the success of the Chapter," said Sara.
Six local business sponsors introduced their products, services, and gifts to the attendees for the Holiday Grab Bag Gift Exchange, and a drawing was held. One lucky attendee's name was drawn to win each sponsored gift.
Marte Multimedia sponsored the NAPW Westchester County Local Chapter holiday mixer, courtesy of Sandra Magana and Brendon Hope, Marketing Managers. Their sponsored gift included two, 1,000-count professionally designed business cards.
Marte Multimedia is a dynamic, family-owned marketing firm based in New York City that provides promotional solutions and cultivates iconic corporate images for clients all across the United States. The company's expert services include branding, vehicle wraps, print, webinars, and project management. For information, contact sandram (at) martemultimedia (dot) com or brendonh (at) martemultimedia (dot) com.
Nirvana Spa, courtesy of Tamara Krivo also sponsored the event with a Nirvana Spa gift certificate.
Nirvana Spa in Scarsdale is a special place with a rare blend of luxury and necessity that reinforce health and beauty. The skilled and creative staff offers the latest technology in spa treatments, facials, body treatments, massage, organic wax, laser hair removal, endermelogic makeup, photo light rejuvenation, and more. Visit nirvanascarsdale.com for more information.
Nadiya Hmelivska Jewelry, courtesy of Nadiya Hmelivska Goodman, sponsored a hand-made necklace of quartz, amethyst, garnet, crystals, glass beads, and silver plated findings.
Artist Nadiya Hmelivska Goodman's handcrafted jewelry can be purchased at Hiden Gallery, Booth# 54, 47 John Street, Stamford CT, 06902 or see more of her work at facebook.com/NadiyaHmelivskaJewelry.
CustoMary Creations, courtesy of NAPW Westchester Local Chapter member Mary F. Palmer, Owner, sponsored a box of assorted handmade cards.
Mary Palmer has over eleven years experience in the fashion design industry, which she leverages when designing cards and stationery for her CustoMary Creations stationery business. Visit customarycreations.com for more information.
Options for Wellness, courtesy of Westchester County Local Chapter member Thelma Jones, MD, sponsored a bottle of Dietary Supplements.
Dr. Thelma Jones is an Integrative MD; board certified in internal medicine and hematology with 35 years experience in western medicine and oncology specializing in chronic physical and emotional conditions. Visit her Options for Wellness website at optionsforwellness.net.
Sheri Gregory, Inc., courtesy of Westchester County Local Chapter member Sheri Gregory, President, sponsored a "Table-It" purse holder charm.
Sheri Gregory, Inc. specializes in new product development and gift-with-purchase (primarily geared to the cosmetic and fragrance and HBA industries). She is currently launching a product she patented, Puffalicious Poufs Body Wash System. Visit puffaliciouspoufs.com for more information.
At the conclusion of the holiday mixer, Sara invited members to stay up-to-date on Chapter news by checking out the Westchester County Local Chapter Page on napw.com, the Westchester County Chapter Facebook Page, and their NAPW Inboxes for updates and meeting announcements featuring guest presenters and events.
"Plan now to support the Westchester Local County Chapter in 2013; mark your calendars, attend meetings, patronize the businesses of our fellow Chapter members and sponsors," Sara told the crowd. "Suggestions, volunteers, and sponsors are always welcomed; please contact me or Crystal directly to help make our Chapter great!"
Attendees at the December Westchester County Chapter meeting were:
Althea Kay, CNN; Brandon Hope, Marte Multimedia (sponsor); Cappy Devlin, Cappy's Travel; Cheryl A. Croce, Party Rescuer; Crystal M. Cutler, Legal Shield; Debora Coleman Johnson, CCOJ/CCLC ; Deborah Chmielink, Charles Rutenberg Realty; Janet Rodriguez, Mary Kay; Lynn Buckmeyer, UBS Investment Bank; Mary F. Palmer, CustoMary Creations® LLC (sponsor); Nadiya Goodman, Nadiya Hmelivska Jewelry (sponsor); Olga Rivera, O's Touch; Sandra Magana, Marte Multimedia (sponsor); Sara O. Speicher, VBM Pro; Sher Gregory, Sheri Gregory, Inc. (sponsor); Victoria DePaolo, Charles Schwab; Tamara Krivo, Nirvana Spa (sponsor); and Thelma Jones, Options for Wellness (sponsor).
The National Association of Professional Women (NAPW) is the largest and most recognized network of female professionals. NAPW provides a forum where women can interact, exchange ideas, educate, network, and empower. NAPW Local Chapters allow members to maximize their experience through meetings, networking opportunities, and professional events.
For additional information regarding the NAPW Westchester County, NY Local Chapter and/or NAPW, please visit http://www.napw.com.