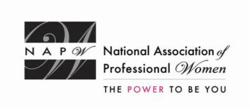 Thanks to incredible support from Crystal M. Cutler, our Vice President/President Elect. As she steps into a role of the new Chapter President, I have a full confidence that the Chapter will continue to thrive.
Garden City, NY (PRWEB) May 21, 2013
Members and guests of the NAPW Westchester County, NY Local Chapter gathered on May 9th for a professional networking meeting at Fiamor, a fashion boutique in Dobbs Ferry.
The group of professional women learned about fashion feng shui from fashion expert Adriana Harris of Ginko & Stich. It was the last networking meeting presided over by outgoing Chapter President Sara O. Specicher, MBA who gave a warm welcome to President Elect Crystal M. Cutler.
The Chapter President kicked off the meeting by welcoming members and guests to the event.
The Westchester Magazine calls Fiamor, the venue for the Westchester County Local Chapter monthly networking meeting, "more than a trendy, Euro-centric fashion boutique; it's a school, too. Owner Mimi Filipov offers an on-site clothing design course for fashion. The store also offers tailoring and custom ordering."
The meeting got started when Ms. Filipov invited guest speaker Adriana Harris of Ginko & Stich (ginkoandstich.com) to educate members and guests on fashion. Ms. Harris conducted a presentation about Fashion Feng Shui.
She explained how important it is to find a balance among visual energy (hair color, haircut, body language; this energy can be changed), essential energy (cannot be changed), and intentional energy (the way we are perceived by others). She then connected the three energies with the five elements (fire, metal, wood, earth, and water) and matched the elements with certain traits of human character and personality.
To illustrate how clothing can influence and reveal the flow of energies, Ms. Harris asked two volunteers to pick articles of clothing from the shop floor based on the specific criteria of what they would like to wear, what they like but know they would never wear, and what they did not like at all.
She then analyzed their choices and her theory was confirmed; we all tend to gravitate towards our energies and elements. As such, modifications can be made simply and easily when needed, to help us appear more relaxed or professional, even sexy and youthful. Attendees then browsed through the boutique and made fashion purchases. More information about Fiamor can be found on the website at fiamor.us.
After the fashion presentation, Sara O. Speicher then addressed the group of professional women for the last time as the Westchester County Chapter President:
"I was thinking about what to say today, being it is the last time I speak to you as the Chapter President," said Sara.
"Over this past year, we have grown as a Chapter; we now have 202 members. We also grew closer on personal and professional levels. Last year, when we gathered for the first time, one of the wishes I had for this Chapter was for our connections to go 'wide and deep,' to use the words of Christine Hefner, last year's NAPW National Networking Conference speaker. I am happy to say that we did exactly that. As many of us have been going through various transitions, overcoming challenges, and rediscovering what we want in life, we have been here for each other for support and encouragement. We did business and grew friendships."
Sara went on to speak to the group of professional women about this year's National Networking Conference.
"This brings back two powerful thoughts from this year's Conference," continued Sara. "Desiree Rogers and Leslie Jane Seymour said that it is possible to have it all but we need to know that we might not have it all at once and that we are independent individuals – my all is not the same as your all… This is why we should each build our own box and not try to fit in those that others have put in place for us. Another thought I would like to leave you with is that of Martha Stewart: we cannot hit rock bottom; all the negative things are just bumps in a road."
"So, with that, I wish each and every one of you a smooth ride. This past year has been pretty smooth for me thanks to incredible support from Crystal M. Cutler, our Vice President/President Elect. As she steps into a role of the new Chapter President, I have a full confidence that the Chapter will continue to thrive. Thank you again for giving me this opportunity."
At the close of the Chapter meeting, Chapter Vice President/President Elect Crystal M. Cutler addressed the group, also highlighting this year's Conference:
"This year's NAPW National Networking Conference did not disappoint but what was most impressive, was the way we came together as a Chapter to enjoy it. More than 20 Westchester County Chapter members met up, commuted, attended events, workshops, lunched, took pictures together, and more," she said.
In closing, Crystal offered her personal thanks to President Sara and led the attendees in a Chapter acknowledgment and applause for work done over the past year to revive our formerly inactive Chapter.
"It has been a pleasure to serve with her," Crystal said, adding, "I'm pleased that Sara will not be leaving us but continuing as a Chapter member. All the best is wished to her, in her upcoming business, and personal endeavors. Lastly, a special thanks to our host Mimi and tonight's presenter Adriana. This has been a lovely evening. Thank you for having us and for the invitation for us to visit again sometime."
Members in attendance were: Angela Neugebauer (Bucci Airport & Limousine Service, LLC), Cheryl A. Croce (Healthcare), Crystal M. Cutler (Legal Shield – Chapter VP), Debra L. Sofos (New York Life Insurance Co.), Debora Johnson, Edith Barillas (Minuteman Press), Judy Garfinkel (Move Into Change), Linda Parker (Soulistic Adventures, LLC), Sara O. Speicher (VBM Pro, Chapter President), Sher Gregory (Sheri Gregory, Inc.), and Thelma Jones (Options for Wellness).
The National Association of Professional Women (NAPW) is the largest and most recognized network of female professionals. NAPW provides a forum where women can interact, exchange ideas, educate, network, and empower. NAPW Local Chapters allow members to maximize their experience through meetings, networking opportunities, and professional events.
For additional information regarding the NAPW Westchester County, NY Local Chapter and/or NAPW, please visit http://www.napw.com.
Follow NAPW on Facebook and Twitter.
###