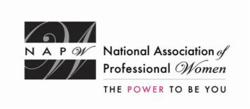 We had a great meeting with our core group of members and a few new faces... We discussed plans for upcoming meetings and events as well as appointments of new Board positions.
Garden City, NY (PRWEB) February 26, 2013
Members and guests of the NAPW West Valley, CA Local Chapter gathered on February 5th for a professional networking meeting at Villa Piacere, located at 22160 Ventura Blvd. in Woodland Hills.
The group of professional women enjoyed an evening of networking, getting to know one another, and discussing future goals for the Chapter.
"We had a great meeting with our core group of members and a few new faces that we welcomed to the NAPW West Valley Chapter this month," said Chapter President Trisha Malin.
"We discussed plans for upcoming meetings and events as well as appointments of new Board positions."
The NAPW West Valley Chapter met for dinner at Villa Piacere where an ala carte menu was enjoyed by all.
The Chapter President kicked off the meeting by welcoming everyone, including a number of new members and several guests.
She briefly spoke about the meeting agenda and pointed out how the group would have an open discussion regarding the points raised in the agenda, in particular, how volunteers were needed for a number of positions on the Chapter Board.
"Now that we've all socialized a bit amongst ourselves, and dinner had been served, I'd like for all of us to now formally introduce ourselves and pass your business cards around to each other," said Trisha.
There was a good exchange and a Q&A regarding referrals and networking amongst all attendees.
Each member and guest stood and introduced themselves, gave a brief presentation on what they do, their passions, what they are looking to gain as a Chapter member, and shared their contact information. Member Suzy Gruzen graciously offered to be the speaker at an upcoming Chapter meeting to exhibit her services and products.
Trisha addressed the group and asked everyone to give some thought to the Chapter Vice President positions that were open. Tina Reeve volunteered as Vice President of Events and Maria Maissian volunteered to be Vice President of Charity Fundraising.
The Chapter President thanked the members and announced that a discussion and voting on these positions will take place during the March Chapter meeting. If anyone else was interested in volunteering or had other suggestions, she asked they email her before the next meeting.
"Members and guests are also encouraged to offer suggestions on how we might, as a Chapter, help support our community, a nonprofit, etc., which we will discuss further at the next meeting," she said.
West Valley Local Chapter members present for the February Chapter meeting were Dyana Terranova, Tina Reeve, Jennifer Deras, Melissa Phillips, Trisha Malin, Teri Frankel, Maria Melkonian-Maissian, and Theresa Ofstad.
Guests attending were Suzy Gruzen (guest of Trisha Malin), Anna Sakvarelidze (guest of D. Terranova), and Kristy Melton (guest of Jennifer Deras).
The next West Valley Local Chapter meeting is anticipated to be on March 19th or 20th. More details will be available on the West Valley Local Chapter Page on napw.com.
The National Association of Professional Women (NAPW) is the largest and most recognized network of female professionals. NAPW provides a forum where women can interact, exchange ideas, educate, network, and empower. NAPW Local Chapters allow members to maximize their experience through meetings, networking opportunities, and professional events.
For additional information regarding the NAPW West Valley, CA Local Chapter and/or NAPW, please visit http://www.napw.com.
Follow NAPW on Facebook and Twitter.
###