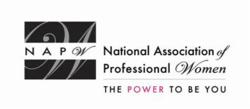 It was an excellent article and we learned some of the new ways we can use our business cards...
Garden City, NY (PRWEB) April 23, 2013
Members and guests of the NAPW Wichita, KS Local Chapter gathered on April 1st for a professional networking event at the Green Mill Restaurant at Kellogg and Rock Road in Wichita.
During the meeting, the group of professional women discovered ways to improve both their personal and professional lives.
Massage Therapist/member Christine Shilling was on hand to demonstrate Kineso taping, a technique that uses elastic therapeutic tape to treat athletic and other types of injuries, while Chapter President Dawn Reed led lively discussions on two articles that focused on leadership skills and how to creatively use business cards.
Dawn Reed kicked off the meeting by warmly welcoming all members and guests. The group of professional women introduced themselves and stated one objective they have for 2013.
The Chapter President then introduced the evening's guest speaker.
"Wichita Chapter member Christine Shilling consults at the Balance & Harmony Therapeutic Massage and does Kineso taping," said Dawn.
"Christine told us what Kineso taping is and why you would use it. She provided demonstrations on two women and showed us two different taping techniques."
When the guest speaker concluded her presentation, the Chapter President distributed two articles to the group of professional women and led them in a discussion about each one.
5 Ways to Attract Attention with Business Cards, an article from a Fedex monthly update, focused on how to creatively use your business cards in innovative ways.
"It was an excellent article and we learned some of the new ways we can use our business cards," said the Chapter President.
"By flipping the card over and using the blank side, an ordinary business card can be transformed into a great marketing piece."
According to the article, suggestions for what to write on the blank side of a business card included: Elevator pitch; Include a well-crafted elevator pitch that quickly and creatively summarizes your company's offerings; Personal highlights; Stand out in a crowd of job applicants with a brief sample of your portfolio or resume; Referrals; Turn a business card into a referral card.
Provide space for your current customers to write their name. Then ask them to refer a friend by giving them the card. When the new customer comes to you with the card, you know whom to thank.
Survey; Create a short survey to get customer feedback. With a few simple questions, you can get great insight into how your customers view your business. Industry tips; Highlight your expertise by including industry-related tips.
If you're a massage therapist, offer breathing techniques for stress relief. Operate a dog training business? Give brief dog obedience advice. IT consultant? Advise client show to prevent or recover lost files.
The second article, A Leader's Greatest Things, a blog piece by The John Maxwell Company, focused on "the art of leadership" and summarized the following ten key points about great leadership:
1. The Leader's Greatest Victory; Victory over Self; 2. The Leader's Greatest Asset ; Confidence; 3. The Leader's Greatest Weight ; Final Responsibility; 4. The Leader's Greatest Discipline; Taking Time to Think; 5. The Leader's Greatest Handicap; Pride; 6. The Leader's Greatest Opportunity; Today; 7. The Leader's Greatest Loss; Hope; 8. The Leader's Greatest Mistake; Putting Self before Others; 9. The Leader's Greatest Prayer; Wisdom; and 10. The Leader's Greatest Joy; Adding Value to Others.
The Chapter President then announced a number of upcoming community activities including a Habitat for Humanity build sometime in August or September; Girls on the Run 5K on May 11th , and Breaking Through the Clouds; Movie, Dinner, and Auction Fundraiser at the Warren Downtown on April 28th.
The Chapter is also still discussing acquiring t-shirts and hats.
The Wichita Chapter meeting will next meet on Monday, May 6th at the Green Mill Restaurant (Kellogg and Rock Road). The social/networking session will begin at 7:00pm, and the meeting will start at 7:30pm. The guest speaker will be Kristen Williams and her topic will be Social Media and How to Effectively Use It.
Wichita Local Chapter Officers are: Dawn Reed, President; Debbie Morris, Secretary; Mary Roupp, Membership; and Danya Burks, Public Relations.
Members present for the meeting: Dawn Reed, Debbie Morris, Jenny Grant, Christine Shilling, Robin Converse, Anna Thomas, Melissa Wright, and Linda Shinogle.
Guests and Potential Members present for the meeting: Anna Duxbi, and Vivian Egger.
The National Association of Professional Women (NAPW) is the largest and most recognized network of female professionals. NAPW provides a forum where women can interact, exchange ideas, educate, network, and empower. NAPW Local Chapters allow members to maximize their experience through meetings, networking opportunities, and professional events.
For additional information regarding the NAPW Wichita, KS Local Chapter and/or NAPW, please visit http://www.napw.com.
Follow NAPW on Facebook and Twitter.
###