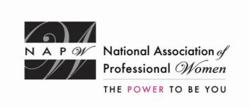 "During the presentation, I shared my legacy story and offered seven success strategies for success and creating your personal legacy!"
Garden City, NY (PRWEB) January 24, 2013
After a successful launch in September, members and guests of the NAPW Winston-Salem, NC Local Chapter gathered again in October and November for professional networking luncheons. Award-winning Marketing Expert Mary Ann Hauser was on hand with her keynote presentation at the launch event; in October, Success Coach and Consultant Dr. Lillana Garcia presented to the group of professional women. The Chapter held its last networking event of 2012 in November, where Chapter President Dr. Anne Sourbeer Morris talked to the women about their legacy stories and led discussions on the Chapter's exciting plans for the New Year.
"What is your legacy?" that was the question the Chapter President asked members and guests at the November 15th Winston-Salem Chapter networking event that was held at the Piedmont Club. Her presentation, 'The Legacy of Six…What is YOUR Legacy?' was based on a chapter from "The Sunshine Sisters: A Celebration of Legacies" by Molly Nece. (For more information about the Legacy of Six, visit futuresinspired.com.)
"During the presentation, I shared my legacy story and offered seven success strategies for success and creating your personal legacy!" said Anne. "The discussion that followed created many caring connections among those present."
November kicked off the start of a new Winston-Salem Chapter meeting format: networking, lunch, speaker, and on-topic discussions. The President also reminded attendees that at each monthly meeting, non-perishable food items will be collected.
"This will benefit the 2nd Harvest Food Bank, which is our Chapter Outreach Project," said Anne. "Thank you to all for your generosity."
The Winston-Salem Chapter got its official start In September, when the women of the Piedmont Triad and current area NAPW members were invited to the Chapter's inaugural meeting. The successful networking luncheon event included a presentation by Mary Ann Hauser, Business Executive Coach and Owner of Action Coach and BizSavvy Academy.
"Mary Ann's background is in strategic marketing and business development. She was recognized as a leader in marketing and received two Telly Awards for excellence in advertising; she was also awarded the 'Founders Award' for Outstanding Leadership Dedication and Commitment to the pharmaceutical industry," said the Chapter President.
The September keynote speaker's presentation, "Set Your Mind to Success," was a review of the best methods to ensure that your thinking will propel your business or career forward. Control your thoughts and control your success!
"The presentation produced a lively discussion. All present were amazed at the camaraderie and excitement generated during the meeting," said the Chapter President.
Mary Ann may be reached at masryannhauser@actioncoach.com.
The NAPW Winston-Salem Local Chapter kept the excitement and momentum going at its October networking event by hosting Success Coach and Consultant, Dr. Liliana Garcia who presented 'The Three Massive Mistakes that Women Solopreneurs Make that Cost Thousands of Dollars!'
"What terrific and timely information Liliana shared. She followed her presentation by sending each participant a video offering even more motivational and cost-saving ideas," said Chapter President Anne. Liliana may be reached at HealYourLimitations@gmail.com.
At all of the monthly meetings, Anne reminded members and guests that a Professional Information and Sharing Table will be set up at each meeting. NAPW members are encouraged to bring to meetings information related to their business ventures. The Chapter President issued a 'call to action' at the October and November meetings:
"We are seeking dynamic women to serve as 20 Minute Presenters," said Anne. "During the presentation, we would like you to offer a message, a motivation, and a memento: A message about your work or career passion; a motivation to empower and inspire; and a memento (physical or spoken) to encourage individuals to take action!"
Anne also discussed membership issues. Members of NAPW may join the Winston-Salem Local Chapter at no additional expense. Anne encouraged NAPW members to join the Local Chapter at napw.com. She also encouraged non-members interested in joining NAPW to visit the website.
"Mark your calendar now for January 24th and February 28th when presenters Steve Black, National Senior Trainer, Business Success Workshops, and Victoria Scott, respectively, will be the guest speakers. And, please, don't forget to bring information about your business to share during the meeting via the Information Sharing Table!" Anne said.
Monthly meetings of the NAPW Winston-Salem Local Chapter are held at the Piedmont Club, in Winston-Salem on the fourth Thursday of every month. Anne reminded the group that women who are not NAPW members may attend two Winston-Salem Local Chapter meetings without required membership. Meetings are not held in December or July.
"Our chapter is growing strong with new individuals visiting each month," said the Chapter President. "Please join us and bring your friends. Several of our recent guests will soon become members!"
There is no fee for NAPW members who would like to attend monthly meetings, but not be served a luncheon. NAPW meetings are free for NAPW members and guests (limit three visits before joining NAPW). No fees above the cost of the meal, tax, and tip are charged. The option to purchase a pre-paid parking ticket is available for the convenience of our guests. Individuals not dining with us are asked to contact Anne so that we may reserve an appropriate room. Individuals with questions about the NAWP Winston-Salem Local chapter may contact Anne Sourbeer Morris at 336-448-8885 with questions or concerns.
Stay up-to-date and receive messages about Chapter events and meetings by clicking "Join This Chapter" under NAPW Networking at http://www.napw.com. Please "like" us on the: Chapter Facebook Page and on LinkedIn.
The National Association of Professional Women (NAPW) is the largest and most recognized network of female professionals. NAPW provides a forum where women can interact, exchange ideas, educate, network, and empower. NAPW Local Chapters allow members to maximize their experience through meetings, networking opportunities, and professional events.
For additional information regarding the NAPW Winston-Salem, NC Local Chapter and/or NAPW, please visit http://www.napw.com.
Follow NAPW on Facebook and Twitter.
###