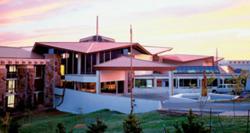 With our high success rate, we have been able to return many people, sober and responsible, both to our immediate area and to homes all over the country
(PRWEB) December 08, 2012
Narconon Arrowhead Celebrates Twenty Years of Service to More than Ten Thousand Recovering Addicts Twenty years of experience enables this drug rehabilitation center to provide expert life-saving services to people from all over the country as well as to train staff from other Narconon® centers.
Since its opening in 1991, Narconon Arrowhead in Canadian, Oklahoma has been offering its life-saving drug rehabilitation services to those needing recovery from addiction to alcohol, illicit drugs or pharmaceuticals. In 2012, Narconon Arrowhead was pleased to announce that it received its ten thousandth individual through the doors to begin recovery on this social educational model rehab program.
Every day for more than twenty years, Narconon Arrowhead has kept its doors open to provide its intensive, inpatient rehabilitation services. Through Oklahoma ice storms and fair weather, this facility has offered an alternative to traditional drug rehab programs for as many as two hundred individuals at a time.
"With our high success rate, we have been able to return many people, sober and responsible, both to our immediate area and to homes all over the country," said Gary Smith, the executive director of the center since its founding. "This is the most rewarding aspect of our job. Families can get their fathers, mothers, siblings or children back. An addict can learn to be loving, productive and ethical once again, safe from the heartbreak and life-threatening danger of addiction."
Many of the Narconon Arrowhead staff have been involved with Narconon rehabilitation services for more than a decade and some have been at this facility for its entire twenty-year history. This means that Arrowhead has some of the most experienced staff in the worldwide network of Narconon centers.
Families from all over the country choose this rehabilitation program for their loved ones. In addition, Narconon Arrowhead offers 48 no-cost beds a year to those in need. In many cases, these scholarship beds are offered to local; Oklahomans.
"Every time we help someone recover from addiction, we reduce the danger to lives and families and we also reduce the threat of crime in our communities," added Mr. Smith. "We are proud of the number of our neighbors that we have assisted to overcome their addictions to illicit and prescription drugs. Locally, we are helping alleviate the prescription drug epidemic affecting so many Oklahomans."
In Los Angeles, the president of Narconon International commended Narconon Arrowhead staff for their hard work and persistence. "Narconon Arrowhead has been the jewel in the crown of Narconon centers for two decades," stated Clark Carr. "They have served as a model for other centers and have trained hundreds of staff which has helped this network expand worldwide. We admire the executives and staff at Narconon Arrowhead who have worked so hard to provide this solution to families, day in and day out for so many years."
For more information on the Narconon rehabilitation program contact the international offices of Narconon at 1-800-775-8750.