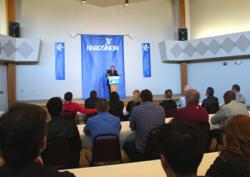 Part of our job of running a Narconon center includes letting people know the effectiveness of our program as well as providing stable recovery for the addicted. I was happy to share my experience with these dedicated staff from every corner of the world
(PRWEB) May 03, 2013
In April 2013, executive directors and other staff from Narconon rehabilitation centers around the world converged on Oklahoma City for their annual director's conference. Part of the inspiration they received from this three-day event came from a tour of the Narconon Arrowhead rehab facility located just a few hours away in Canadian, Oklahoma.
On Sunday, April 21st, representatives from countries as far away as South Africa, Russia and Australia traveled to the Narconon Arrowhead facility for their tour. As the largest rehab in this international network, Narconon Arrowhead not only provides training for those wanting to start a Narconon rehab or drug education group, it also serves as a model of what a fledgling Narconon center can grow into. Founded in 2001, this facility perched high on a ridge overlooking Lake Eufaula can house as many as 200 clients at a time.
After a homestyle lunch, the directors and staff were briefed on expansion methods that have enabled Narconon Arrowhead to provide its effective rehabilitation program to more than 10,000 individuals over the years.
Narconon Arrowhead executive director Gary Smith provided an inspirational talk for the visitors, drawing on his thirty-year history of working with the network. "In Oklahoma, there are severe problems with prescription drug abuse as well as methamphetamine," he said. "Part of our job of running a Narconon center includes letting people know the effectiveness of our program as well as providing stable recovery for the addicted. I was happy to share my experience with these dedicated staff from every corner of the world."
At the end of the tour, the visitors agreed that they were much better prepared to return home to provide drug and alcohol rehabilitation services to more people in their regions.
For more information on Narconon please visit our website narconon.org or call 1800-775-8750.