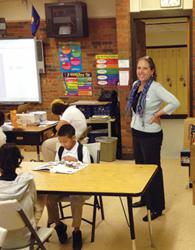 Isabel has seen problems among her students for years and this training will help her save some of their lives
(PRWEB) June 04, 2013
In just the last few months, Ecuador has been rocked by revelations of drug dealing and abuse in its schools. In January 2013, the death of thirteen-year-old Tamara Chevez from a mixture of cocaine and sedatives triggered investigations into this previously undisclosed problem. In the middle of April, Isabel, a retired teacher from a suburb of Quito, traveled more than 4,000 miles to the middle of the US to learn how to prevent more deaths like this.
Back home, Isabel works with two friends to develop solutions for drug abuse and addiction utilizing the Narconon® rehabilitation and prevention methods. Isabel is the first to travel to the US where the international Narconon Arrowhead training center is located, to get training to start implementing their plans.
She first trained on the Narconon method of getting a person through a humane withdrawal by using nutritional supplements and frequent "assists" – gentle procedures somewhat like light massages that calm and orient the person and help the body relax. When she returns to Quito, she will be able to help people avoid the horrendous sickness and pain that is experienced by many people when they withdraw from drugs.
Second, she completed the Drug Prevention Specialist training. She followed this with trips to local schools with Niko Bain, a Narconon Arrowhead drug educator who tours schools in Oklahoma, Kansas and Arkansas. Her first day, she observed Niko educate several hundred children on the dangers of drug abuse. The second day, she jumped into the presentation to talk to 60 children in two classes.
Narconon Arrowhead has also been the destination for people coming from Russia, Australia, Canada, and Mexico for drug prevention and rehabilitation training.
"Isabel has seen problems among her students for years and this training will help her save some of their lives," said Bain. "Isabel felt that she got the training she needed to make a difference and was excited about getting started when she got home."
"The founder of Narconon, William Benitez, left a legacy of effective drug prevention methods behind when he died in 1999," stated Clark Carr, president of Narconon International. "He began giving presentations in Arizona schools as far back as 1968. According to a recent peer-reviewed study of the effectiveness of our drug education methods, we know we are changing young people's ideas about using drugs." Carr was referring to a study carried out in Oklahoma and Hawaii that shows that more students disapprove of drug abuse and have lower drug abuse statistics after receiving this curriculum. This study is available at http://www.substanceabusepolicy.com/content/3/1/8.
For more information on the Narconon drug education curriculum, call 1-800-775-8750 or visit http://www.narconon.org/drug-education/.
Source reference: