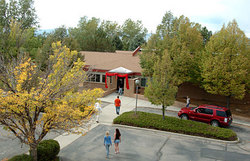 As far as I'm concerned Narconon saved our son's life.
Los Angeles, CA (PRWEB) December 12, 2009
Eighteen year addiction ends at Narconon California Drug Treatment Program.
Imagine discovering that your son has an addiction to crack cocaine and prescription drugs for the last eighteen years! Imagine finding that out just before Christmas. That's the news that Patty, a registered nurse and her physician husband received during the holiday season two years ago.
"When our son told us about his addiction we were shocked. How did this happen? How did we miss the signs?" Patty continues;" Jason knew he needed treatment so we found a thirty day program. How naive we were thinking thirty days could reverse eighteen years of drug addiction. After trying thirty day programs without success we realized a longer, different treatment program was the key. Researching, we found Narconon California offered a long term holistic treatment program. We talked to people whose family members had succeeded with this program. We decided to give it a try."
"That Thanksgiving we sent Jason for rehab treatment at Narconon. We were both sad and hopeful. By Christmas Jason's optimism was contagious. After four plus months Jason had completed all components of the treatment; had graduated and returned home.
"I immediately saw changes; he was no longer sullen or quick to anger. Jason listened, thought things through; a major change. Six months later we flew back to Narconon so Jason could receive his Six Month Award in person. That trip gave me a chance to thank in person, the Narconon staff. At the Graduation I spoke briefly to the students and staff. "This is a place where miracles happen. I thank God and the remarkable staff for giving us our Miracle, returning our son to us."
Jason adds "I was done running away from people and myself. Please don't get me wrong, it was not easy but if not for this Program I would not be alive today."
In closing Patty notes "It's been over a year now that our son maintained his sobriety. That may not sound like a long time, but when someone has used drugs for eighteen years; a "clean" year is a major achievement. As far as I'm concerned Narconon saved our son's life."
If you have a family member needing drug or alcohol rehabilitation contact http://www.narcononcalifornia.com or Catherine Savage, Director of Community Affairs 800- 405-8409
# # #