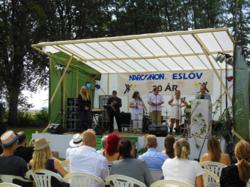 Together, we know we make a better tomorrow and this makes it all worthwhile.
Eslov, Sweeden (PRWEB) August 24, 2012
Hundreds of community members, graduates, family and friends joined together on August 12th, 2012, to celebrate the thirtieth anniversary of the life-saving Narconon drug rehabilitation program. It was in 1982 that this Narconon center first opened its doors to those who had lost their way to alcohol, amphetamine, heroin, cannabis or other drug addiction. This festive occasion was marked with music from well-known rock musician Hank von Hell, who became drug free through the Narconon program, as well as from other famous musicians from Norway, Sweden and Denmark.
Von Helvete's story exemplifies the way Narconon Eslov has helped addicts build new sober lives. At one time, Hank von Hell was unable to pursue his career due to an addiction to heroin. Since he completed the Narconon drug rehabilitation program, he has built a new career founded on a more positive note. He has a lovely wife and young daughter.
Community Members Join the Celebration
Joining the executives and staff of Narconon Eslov, which is near the university city of Malmo, were City Council Chairman Cecilia Lind, a representative of the local police department and other local businesspeople. Several community members received awards in gratitude to their years of support for Narconon's work to eliminate and prevent addiction. Baron Carl-Johan von Schwerin, local physician Dr. Stig Cronberg, and police officer Mats Odestål were among those recognized.
From the international office of Narconon in the United States, several management representatives were on hand to thank and award the Narconon staff, some of whom have worked for decades to save lives.
Hakan Larsson, Executive Director of Narconon Eslov, commented on the personal rewards of helping addicts. "Yes, it's challenging work," he said. "But we see the majority of those we graduate go on to live drug-free, ethical lives. Many of those go on to help free others from drugs. Together, we know we make a better tomorrow and this makes it all worthwhile."
Congratulations to them all. And congratulations to the Swedish community for providing a welcoming environment for drug rehabilitation across all these years.
For more information on the Narconon drug rehabilitation program, please call 1-323-962-2404 | 1-800-775-8750 or send an email to info(at)narconon(dot)org.