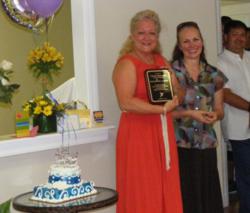 The drug rehabilitation field is a very challenging field and the people we work with are some of the most difficult to help.
Clearwater, FL (PRWEB) August 17, 2012
Narconon Florida and Executive Director, Cheryl Alderman, celebrated their 17th Anniversary saving lives at a surprise party, Friday, August 10, 2012 at their alcohol and drug rehab facility in Clearwater, FL. Narconon students, local supporters and community members gathered to honor and thank Cheryl for her years of services helping addicts recover their lives.
Dedicated to her work, Cheryl was late to her surprise party because she was at the courthouse briefing a judge to help an addict do the Narconon Drug Rehab instead of going to jail. The judge approved the arrangement and the person is now in the rehab program.
"The drug rehabilitation field is a very challenging field and the people we work with are some of the most difficult to help. Addiction is secondary to what is really going on. No person wakes up one day and decides they have nothing better to do so let me see what drug or drink I can do to make me feel better. There is always an extenuating circumstance in their life that brought them to using drugs. In actuality getting them off drugs is fairly simple. First and foremost, it is about choices, willingness and the determinism of the individual if they want to change their life. It has been an honor for the past 17 years seeing individuals come into the center at the worst point of their life, and 6 months later walking out the door to a new life and success," says Cheryl.
The Narconon program is unique among drug rehab programs because its methods are entirely drug-free. The Narconon drug rehabilitation program does not use drugs or medications to solve the problems caused by drugs, but do use good nutrition and nutritional supplements as an important component of its delivery. Drug cravings are handled in the Narconon New Life Detoxification program which helps remove the drug toxins that are stored in body. These steps are then followed by life skills courses that locate why a person starting abusing drugs in the first place, and gives them the skills needed to make better choices. Thus the program is neither psychiatric nor medical, but a social education model of rehabilitation.
About Narconon Florida
Narconon Florida, Inc. is located in Clearwater, FL and is a private non-profit agency that is licensed by the State of Florida. The Narconon Drug Rehabilitation and Education program was founded in 1966 by William Benitez and uses the drug-free rehabilitation and social education methodology based on research developed by American author and humanitarian L. Ron Hubbard. For almost two decades they have provided Detoxification and Drug Treatment Services to individuals throughout the nation that are dealing with alcohol and substance abuse with a 78% success rate. The objective of the program is to assist the student back into society so they can live a productive drug-free life. The program improves damaged relationships with families and reduces recidivism in the legal system. For more information visit their website at http://www.narcononflorida.org or call 727-796-1011.