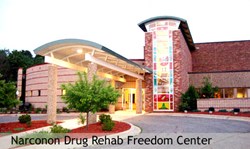 Families should consider giving an invention as rehab is the best place for someone dealing with addition over the holidays. Though an unusual gift, intervention is truly a gift of life and the hope for many more happy years to come.
Albion, MI (PRWEB) December 08, 2011
Narconon Freedom Center for Alcohol and Drug Prevention Education and Rehabilitation reports that the holidays, from Thanksgiving to New Year's Day are a critical time for addicts as pressure to party and abuse alcohol, drugs and prescription drugs peaks for the year. In response to this often fatal issue, the Center has added additional drug abuse intervention specialists to help families get their addicted child or loved one into rehab where they will be safe during this time of year and also can get drug-free.
"During the holidays, families are apt to pretend that an addiction problem doesn't exist, in the hope that the holiday season isn't spoiled for everyone. Yet they secretly dread the ringing of the phone fearing it will be the police with bad and possibly fatal news about their child or loved one," says Brian Kuehne, Executive Director of Narconon Freedom Center.
Kuehne goes on to explain, "Unfortunately, the strength of the substance one is addicted to on the body, especially prescription drugs, is so strong that the addict physically can't stop on his own. It is simply too physically painful so they will continue to use and possibly increase their use over the holidays. Like a two year old child who starts to climb a ladder which the parent, knowing is dangerous, simply reaches over and plucks the child to safety, so should the parent pluck their addicted child or loved one from their current environment and get them admitted into rehab. This can be easily accomplished with the help of a trained Drug Abuse Intervention Specialists."
The holidays are supposed to be a time of joy and cheer yet just one set of statistics show that there are more DUIs throughout the country during this time of year and surveys indicate that drug abusers often increase their usage during the season. The National Center for Victims of Crime reports that during the Christmas and New Year holiday time, about 40 percent of all traffic fatalities occur in crashes where at least one of the drivers has a BAC (Blood Alcohol Count) level of .08 or more. During the remainder of December, the figure is 28 percent.
"Families should consider giving an intervention as rehab is the best place for someone dealing with addiction over the holidays. Though an unusual gift, intervention is truly a gift of life and the hope for many more happy years to come," says Kuehne.
For a free confidential consultation or more information about intervention and drug abuse intervention specialists visit http://freedomdrugrehab.com.
About Narconon Freedom Center
Narconon Freedom Center, located in Albion, MI, is a private non-profit agency that is licensed by the State of Michigan. They have provided Alcohol and Drug Rehabilitation and Recovery Services to individuals throughout the nation that are dealing with alcohol and substance abuse. Their program boasts at 70% success rate that is 4 time higher than the national average. The Narconon Drug Rehabilitation and Education program was founded in 1966 by William Benitez and uses the drug-free rehabilitation and social education methodology based on research developed by American author and humanitarian L. Ron Hubbard. Additionally, they offer drug prevention education and are involved in community outreach programs. For more information visit their website at http://www.freedomdrugrehab.com or call toll-free 877-362-9682.
###