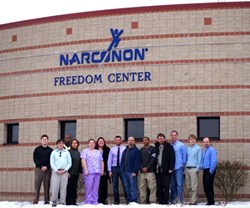 We are excited about this year's theme. So many members of our community have come forth by donating some of the most beautiful Christmas trees I have ever seen.
Albion, MI (PRWEB) November 29, 2012
Narconon Freedom Center, a drug and alcohol rehabilitation and community outreach center, is pleased to announce that they have joined the Albion Health Care Alliance Committee lending support for their annual Holiday Benefit Ball being held November 30, 2012. The theme of this year's ball is "Spectacular Lights Around the World" and the hall will be decorated with a variety of Christmas trees from local contributors.
The Health Care Alliance, a non-profit organization committed to improving the health of the community, took over the benefit ball in 2002 after the closing of the communities' only local hospital. The ball is designed to bring the community together for a night of fun, with dinner, music, dancing and a silent auction. The proceeds of the ball will be forwarded to programs such as the Neighborhood Health Visitors program, Health Care Facilities program, School Nurse program and Teen Pregnancy/Sexual Issues Prevention.
This year's committee consists of Nidia Hernandez Wolf, Vivian Davis, Dolores Kittinger, Nick and Fran Costianes, Martha O'Kennon, Janice Best, Karen Kuhn, Dave and Sue Farley, Alyssa Passino, Dee and Jason Strong, Diana Wesley and Carrie Wilson.
"We are excited about this year's theme. So many members of our community have come forth by donating some of the most beautiful Christmas trees I have ever seen," says Nidia Hernandez Wolf, Executive Director of the Health Care Alliance.
Narconon is very pleased about the theme this year as it provides an opportunity to show the community the worldwide scope of the Narconon Drug and Alcohol Rehabilitation Program. For their Christmas tree, they have decided to design and handcraft a Christmas ornament to represent every Narconon drug rehabilitation and drug prevention centers located throughout 40 countries on six continents. All over the world, the Narconon drug rehab program provides drug and alcohol treatment services in many languages, including English, Spanish, Portuguese, Italian, German, French, Danish, Swedish, Finnish, Russian, Nepalese and Taiwanese. The ornaments will represent the thousands of people around the world who have been helped to overcome their addiction and lead productive drug free lives because of the program.
About Narconon Freedom Center
Narconon Freedom Center is a non-profit drug and alcohol treatment facility licensed through the state of Michigan. The facility opened in 2002 to help those struggling with substance abuse and alcoholism using a combination of proper nutrition and nutritional supplementation while taking classes that deal with social education. William Benitez founded the Narconon program in 1966 with the drug-free rehabilitation education researched and developed by American author and humanitarian L. Ron Hubbard. The drug and alcohol rehabilitation facility also provides drug prevention education to schools all over as well as community outreach programs. For more information visit their website at http://www.freedomdrugrehab.com or call toll-free at 877-362-9682.