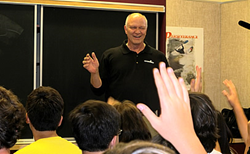 Narconon Fresh Start
(PRWEB) June 14, 2013
Narconon Fresh Start has launched a new drug education curriculum that is tackling the cycle of addiction in America head on through the power of knowledge and education. The new drug education program, called The Truth About Drugs lecture series, began earlier this year and has already been delivered to over 600, 000 students, arming them with the facts and information that they need to remain drug free.
The History of Narconon
The word Narconon means "no drugs" and the program was first founded in 1966 by William Benitez, who based the program on L. Ron Hubbard's philosophy. Since 1966 Narconon has been a successful drug rehabilitation program that has grown to include eight centers across the United States, including Sunshine Summit Lodge, located in Northern San Diego county.
Counsellors working with individuals in these rehabilitation programs saw first-hand the devastating effects that drug and alcohol addiction had on individuals and their families and the difficult, life-long struggle that participants faced in their road to recovery. Thus, the program saw the need to eventually expand its focus on rehabilitation to include prevention and education strategies.
The mission of Narconon Fresh Start is to provide the most effective drug and alcohol treatment as well as prevent youth from getting involved with drugs and alcohol in the first place. This emphasis on youth prevention and education has been the focus for the new education curriculum The Truth About Drugs, one that is greatly needed in order to curb the ever-growing problem of drug and alcohol addiction in the United States.
The Truth About Drugs Lecture Series and Narconon Fresh Start Reviews
The core concept behind the Truth About Drugs lecture series is that the majority of young people who gain true knowledge and understanding about the real dangers of drugs are able to evaluate their options rationally and will make the decision to stay away from drugs.
So how is the Narconon Fresh Start program different from others? In the past other types of drug education programs have been widely used among governments and organizations in the United States and abroad with mixed results. These include the scare tactic method — an attempt to scare youth away from drugs by presenting information that is not factual or easily discredited. The harm reduction method is another popular approach to drug prevention. This apathetic approach is based on the philosophy that people will use drugs no matter what evidence is presented to them and therefore efforts should focus around educating people to use drugs safely.
Unlike these two methods, the Narconon prevention program is evidence based. Narconon Fresh Start reviews have shown great success. The program's effectiveness on high school students has been studied and the results show reduced drug use amongst these groups of students (Richard D. Lennox & Marie A. Cecchini. "The Narconon drug education curriculum for high school students: A non-randomized, controlled prevention trial." Substance Abuse, Treatment, Prevention and Policy: Web. March 19, 2008).
The New Truth About Drugs Curriculum Reaches Hundreds of Thousands of Youth in America
Since its inception the Truth About Drugs curriculum has been delivered to school children of all ages across the country. The new Truth About Drugs curriculum provides students with information that they can relate to and it allows students to arrive at their own conclusions about the facts that are presented about drugs. The curriculum also gives youth alternative solutions to social situations that may otherwise be solved with drug use.
The highly interactive nature of the curriculum is also critical to ensure that youth remain fully engaged. Audio-visual material including films, live presentations and interviews with students and recovered addicts paint a realistic picture about drug use.
Narconon Fresh Start hopes to reach out to many more youth this year and into the future to educate students on the true facts about drugs and help foster drug prevention in youth across the country.