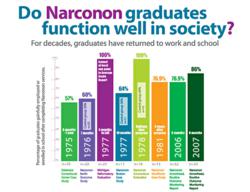 What is rehabilitation, if it's not learning how to learn and then getting on and doing that, for real.
(PRWEB) May 09, 2013
As part of the research done before the recent release of the first compilation of 23 Narconon studies, reviews, and evaluations from 1972 to 2009, coming to light was an almost forgotten study of Narconon New London (Connecticut), one of the first Narconon centers in the U.S. John D. Miller, MSW, performed and wrote up the results of this small outcome study on Narconon Connecticut in August 1978. This was the twelfth study or review of Narconon after prison officials issued a 1972 report on the initial Arizona program. Narconon now comprises 13 drug rehabilitation centers across the U.S. and 51 internationally.
Narconon International interviewed Patty O'Neill (now Schwartz). In 1978, she was the Public Services Director of the New London, Connecticut Narconon program, which served mostly teenage drug addicts. Patty herself had graduated the Narconon program in 1975. "All the kids were poly-drug users," Patty says, "heavy pot smokers, often mixing it with PCP/Angel Dust." PCP is a powerful hallucinogenic, whose heyday was the '70s and '80s. Fortunately out of the limelight today, PCP was associated with causing psychotic breaks, sometimes violent. Narconon Connecticut, Patty recalls, provided residential and out-patient drug rehabilitation life skills courses to released inmates as well as to juveniles and other adults, some of these services government funded.
The Narconon program was only a little over 10 years old at the time, having been founded by Willie Benitez, an inmate in Arizona State Prison in 1966, based on his reading of self-help works by humanitarian and philosopher, L. Ron Hubbard. When Benitez was released from prison, he founded the first Narconon residential facility in Los Angeles. But many Narconon programs continued to operate in correctional facilities. After L.A. New London, Connecticut and Boston, Massachusetts were the next United States' Narconon programs outside prison.
The study is available as part of a compilation recently posted on its website by Narconon International of 23 case studies, evaluations, and reviews. Many studies, some with control groups, etc., were unearthed from Narconon files during the research. What is interesting, as the Connecticut study among others reveals, is a consistency or result and success across the decades.
Miller's study found that the small research group did very well with their Narconon program -- 80% being drug abstinent, and although 30% had had criminal histories before Narconon, 0% did at the time of the survey.
"We only had about 20 students then," says Patty, now Executive Director of Friends of Narconon, International, a drug education support group based in Pasadena, California, which provides drug ed videos to some 8,000 schools across the United States. "Mr. Miller studied the results on 10 of them, primarily teenagers, and found they were doing pretty damn well. Kids are hard to help, as they don't have drug-free lives prior to addiction to compare their drug abused behavior to." The New London program was actively supported, reports a March 7, 1978 article from The News of Niantic, Connecticut, by senior and other volunteer groups, providing furniture, curtains, helping with a newsletter, etc.
The kids were attending Narconon after school or work. The Narconon program had fewer steps then than it does now, but was delivering what have been since then two core components of Narconon drug rehabilitation methodology -- communication skills and study (learning) skills. The communication skills courses were a series of practical exercises in improving one's ability to confront other people and the "bullbaiting" or challenges that they and life constantly provide a recovering addict. Patty says that the result looked for is that the student finds for himself that he can confront and handle, can communicate well with anybody or anything out there that life will throw at him. The learning skills courses actually teach the young or mature student how to study and how to learn more effectively.
"What is rehabilitation," concluded Patty in her interview about Narconon Connecticut, "if it's not learning how to learn and then getting on and doing that, for real." When asked what she thought were the key components to successfully helping these youths off drugs, Patty said, "Personal attention, a lot of it, and good, strict control."
The same could be said for youth anywhere today. Other Narconon programs for juveniles have shown comparably good results, as can be seen in the new compilation, which can be found on Narconon's home page -- http://www.narconon.org.
Clark Carr
President Narconon International
Member, Narconon Science Advisory Board