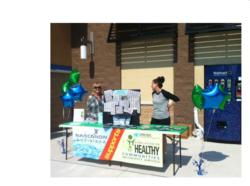 Helping educate the community on the dangers of drug use, whether in the home, school or workplace, is crucial to tackling this problem head on.
Denham Springs, LA (PRWEB) June 28, 2012
Narconon Louisiana forwarded the goals of the United Nations International Day Against Drug Abuse and Illicit Trafficking on Tuesday, June 26, 2012, by distributing drug education materials at the local Denham Springs Wal-Mart.
To bring up awareness of drug abuse, several Narconon staff handed out over 300 drug education materials, including "Truth About Drugs" DVDs, "The Mechanics of Addiction" drug education pamphlets and the United Nations Teen Fact Sheets about drugs. One local resident, R.G., a Licensed Practicing Counselor offered his view, "It's wonderful what you all are doing here. Educating the public about the dangers of drug abuse could save thousands of lives."
As a Risk Management Consultant, R.G., has seen the negative results of drug use in the work place. After a recent drug-related death in the railroad business, he stated, "Increasing awareness is just one way we can help these individuals. Sometimes having nowhere to turn for help leads to tragedy."
The United Nations Office on Drugs and Crime (UNODC) has many years of experience developing and implement policies against substance abuse. The UNODC works with families, schools and the workplace to help prevent drug and alcohol addiction. They advise that evidence-based family skills training programs have been found to be the most effective way to prevent substance use among children and adolescents.
"This makes efforts such as the one today, so vital", says Cathy Steiner, CEO of Narconon Louisiana, an alcohol and drug rehabilitation facility. "Helping educate the community on the dangers of drug use, whether in the home, school or workplace, is crucial to tackling this problem head on. We need to make people aware of the true facts about drug and drug addiction… and that once you are on that path, it leads nowhere other than destruction."
The Narconon alcohol and drug rehabilitation program prides itself with their 75% success rate. This success is attributed to its unique drug-free rehabilitation program of not using drugs or medications to solve the problems caused by drugs. Rather nutrition and nutritional supplements are an important component of its delivery. Drug cravings are handled during the Narconon New Life Detoxification program that helps remove the drug toxins that are stored in the body. These steps are then followed by life skills courses that locate why a person starts abusing drugs in the first place and provides the skills needed to make better choices.
About Narconon Louisiana.
Narconon Louisiana, located in Denham Springs, is a non-profit alcohol and drug rehabilitation center licensed by the State of Louisiana. The Narconon drug rehabilitation and education program was founded in 1966 by William Benitez and uses drug-free rehabilitation technology based on research developed by American author and humanitarian, L. Ron Hubbard. They are dedicated to eliminating alcohol and addiction through drug prevention education and rehabilitation. If you know someone struggling with alcohol addiction or drug abuse and would like more information visit http://www.drugabusesolution.com or call 877-340-3602. Any questions you have will be addressed in confidence.