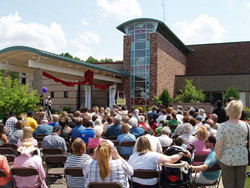 Los Angeles, CA (PRWEB) August 27, 2010
Eight years ago, Narconon Michigan opened its doors to help saves those of addiction and substance abuse.
Narconon is an international network of drug treatment centers.
The first Narconon was started in 1966 inside Arizona State Prison by an inmate and former heroin addict, William Benitez. Mr. Benitez had been addicted to hard narcotics since the age of 15. He decided to start Narconon after utilizing techniques from books by author and philosopher L. Ron Hubbard to improve his own abilities and thereby handle this addiction.
He obtained permission to start a drug rehabilitation program on a pilot basis in the Arizona State Prison. The Narconon drug rehab began with 20 interested inmates. It expanded by word of mouth and eventually there were over 160 men on the program. The focus of the Narconon program, both then and now, was on increasing abilities. In the initial program specific drills were used to increase a person's abilities to communicate, to handle things that he started, to confront things in life.
In 1972, the first residential program opened in Los Angeles. Initially, this was a halfway house for inmates but it gradually developed into a full residential program for substance abusers. The program has evolved and expanded over the years and Narconon now operates 150 drug rehab programs in 50 different countries. The drug treatment group has always promoted an approach to drug rehabilitation without recourse to alternative drugs.
Eight years ago, a Narconon program opened its doors in Michigan and this month is celebrating eight years of saving lives in the state. The center has graduated over 600 students with a success rate of 74%. Narconon of Michigan has been a great addition to the Narconon Organization has also made a name for themselves serving in the community and helping others fight their addiction from all over the world.
If you or someone you love is struggling with a drug or alcohol addiction, contact Narconon Freedom Center for today at 1-888-218-0478 or on our website at http://www.freedomdrugrehab.com
###