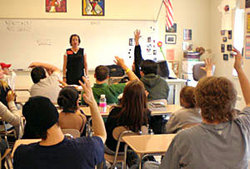 I did a Narconon Truth about Drugs Presentation called 'Drugs and Emotions' to this group of inmates and it was a great talk
Safety Harbor, FL (PRWEB) October 15, 2009
To help celebrate Red Ribbon Week coming up this month, Narconon has increased its public outreach by delivering successful drug prevention lectures all over the country. This past week, Narconon New England traveled to a medium security prison in Rhode Island to deliver a drug prevention talk that received rave results.
"I did a Narconon Truth about Drugs Presentation called 'Drugs and Emotions' to this group of inmates and it was a great talk," says Maria Di Liegro, Executive Director of Narconon New England. "The inmates had lots of great questions and got a lot out of the talk. The Narconon drug ed presentations are extremely well received there."
Di Liegro has traveled to the prison many times to speak with the inmates who are turning their lives around through treatment through the Criminon Program while incarcerated. She has worked in the drug prevention field with Narconon New England educating both children and adults in schools, prisons and community groups about drug abuse and addiction. The main purpose is always sharing the Narconon drug prevention message which has demonstrated its effectiveness throughout the world.
The Narconon program was started by a prison inmate named William Benitez back in 1966. Searching for a solution to his own drug problem and serving a sentence in Arizona state penitentiary, Benitez came upon a book in the prison library by American author and humanitarian L. Ron Hubbard that finally gave him a solution to overcome his own addiction. From there Benitez, with the help of Hubbard and many volunteers, was able to expand the program all over the world. Today Narconon operates more than 100 drug rehab facilities in 44 different countries and has delivered drug education lectures to 3.5 million people worldwide.
For more information on effective drug prevention through Narconon in the Eastern United States contact us today at 877-237-3307.
# # #