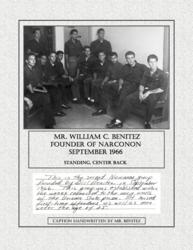 I found that if a person rehabilitated and applied certain abilities, that person could persevere toward goals set, confront life, isolate problems and resolve them, be responsible and set ethical standards
(PRWEB) May 21, 2013
It took Willie Benitez, a heroin addict who in 1966 was in prison for his sixth time on a fifteen year sentence, six months to convince the Arizona State Prison warden Frank Eyman to trust him enough to allow Willie to start up an educational self-help class with other addicted inmates. "NarcoNon" Willie intended to name his "drug rehabilitation foundation," meaning "no-narcotics" or "not-going-to-use-drugs-to-get-off-drugs." He did finally get permission and did start up that class.
Early on, when there were only 18 inmates meeting, Wille asked another inmate Gordie Weinand who was in on a three year sentence if he would like to attend. Interviewed recently by Narconon International, Gordie recalls, "The Narconon meetings then were only Thursday nights for two hours. Willie would explain the philosophy behind what we were doing and we would do these 'confronting' drills with one another at the beginning and end of the classes. They seemed strange to me at the time. Little did I know how much they would help." Gordie was talking with Narconon International about the recent release of a 40 year compilation of studies, reviews, and evaluations of Narconon programs. The very first review presented is a 1972 staff report from Arizona State Prison about that same program Gordie was in. The report simply lists how many "graduates" of the Narconon program, once released, had stayed out of prison and "clean" since 1968. 66.6% were sober and out of jail one to four years later. Both Willie Benitez's and Gordie Weinand's names are on that list, and Gordie is still proud to have been involved.
Willie Benitez had run across a book in the prison library by humanitarian and philosopher L. Ron Hubbard, called Scientology - Fundamentals of Thought. Reading that book, Benitez later wrote, "I found that if a person rehabilitated and applied certain abilities, that person could persevere toward goals set, confront life, isolate problems and resolve them, communicate with life, be responsible and set ethical standards, and function within the band of certainty." Pretty high flying thoughts for an inmate struggling to free himself from addiction. But that was the beginning of what developed into the international Narconon life skills program, now with 13 rehab centers in the U.S. and 51 worldwide.
"We had so few books in that first class," recalls Gordie, "that we cut them up into chapter booklets. Everyone took one chapter back to his cell to read. Then we would talk about them, and so on."
That first class was just discussion and doing the same communication drills or exercises which beginning Narconon students do even today as one of the current eight steps of the program. They also got lectures from Peter Green, a volunteer who came in to help once a month.
"Prison was and still is just 'routine,' " says Gordie. "There's breakfast, your cell. Lunch, your cell. No thought of the future. But when I got involved with Narconon, it opened me up -- I started to feel good, more competent. I was getting help, but helping myself. Getting stronger and developing abilities to confront life."
As early as August 1966, the Narconon program had started receiving attention with its first coverage by The Arizona Star. "There is nothing Benitez doesn't know about dope," the article quotes Warden Eyman as saying, but then continues that Benitez along with 20 inmates was "trying to kick the habit and then help other addicts to do likewise." By 1971 the still new Narconon program began to garner further praise for its drug-free and crime-free results. The 26 August 1971 Hollywood, California Citizen News reported that "out of 57 graduates of the Narconon program at Arizona State Prison, the California Rehabilitation Center at Corona, and Vacaville Medical Facility in Northern California, only eight have returned to a life of crime and drugs." That would have been 86%, even better than the initial 67% reported by prison staff of the first class. The Narconon program staff were learning from hands-on experience.
Although he had a three year sentence, Gordie was discharged after nine months, but, as presented in a Florence, Arizona 30 May 1968 El Saguaro article, while still inside, he had the rare experience of participating and acting in a Paramount Pictures movie, "The Riot," produced by William Castle and directed by Buzz Kulick, which was shot inside Arizona State Prison. "Real inmates enact all but a few of the film roles," says the article, "and several play featured roles." In another Narconon Boston staff article about Gordie's flash of fame, Gordie commented wryly, "Maybe some day I can play a part in The Narconon Story."
He did and he is still doing so. After he got out of prison, he worked with Narconon, at first with Willie Benitez in Los Angeles and later with other centers. Even today, 45 years later, Gordie is still talking to young drug addicts in recovery to perk up their spirits. "I had the opportunity," he says, "to meet two Narconon students recently who were in the same situation like I was at the beginning -- doubting, what's my future? I explained to them where I came from. I try to help people the way I was helped. Their future will be based on their own abilities, but I get a lot of thank you's and warm hand shakes."
Weinand hopes that many people will see the Narconon compilation of studies and evaluations. It begins with the report on his own program and progresses up through the years presenting evaluations, small and large, formal and informal, of Narconon in other US prisons and reformatories and then on to free-standing centers around the world, winding up with a 2007 outcome monitoring of Narconon Arrowhead graduates, which found 76.5% drug-free 1 year later. And, as Gordie himself and many other graduates can attest, many more drug-free years to come.
Clark Carr
President
Narconon International
Source References:
40 Years of Narconon Outcome Evidence Studies Compilation
1972 Arizona State Prison study
http://www.narconon.org/about-narconon/william-benitez.html
http://www.narconon.org/history/1966/narconon-established-battling-addiction.html
http://www.narconon.org/history/1966/narconon-fighting-addiction.html
http://www.narconon.org/history/1971/prison-addicts-beat-drug-habit.html
http://www.narconon.org/history/1968/narconon-makes-el-saguaro-penal-newspaper.html
http://www.narconon.org/history/1968/narconon-graduate-convict-to-celebrity.html
http://www.narconon.org/about-narconon/2007-narconon-arrowhead-analysis.pdf