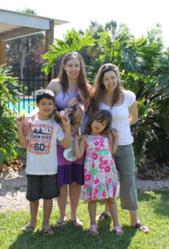 "It's important to us here at Narconon Riverbend to keep the families involved in their loved one's recovery"
Denham Springs, LA (PRWEB) April 11, 2012
Narconon Riverbend in Louisiana, an alcohol and drug rehabilitation center, celebrated its 7 th Annual Easter Celebration with students and their families on Sunday, April 8, 2012. Festivities included an early morning Easter Egg Hunt that awarded prizes for the most Easter eggs collected followed by Easter Dinner and sports events.
Children and adults alike, dressed in their bright spring attire, ran from tree to tree across 5 acres to find the colorful Easter eggs. The top three winners received gift cards, while all were given pink, green and bright blue Easter boxes filled with candy and small toys for the children.
The families were able to share this holiday with their loved ones, unlike many of the past where the addict was often missing. "This is a beautiful facility and our daughter looks just great. We are so pleased that we found Narconon," said Dennis, father of a student.
"It's important to us here at Narconon Riverbend to keep the families involved in their loved one's recovery," said Cathy Steiner, Executive Director, Narconon Riverbend Louisiana. "It's very rewarding to see these families having fun and really enjoying the time they spend together which is a vital step to an addict's recovery. We encourage students to take time with their families to rebuild their relationships."
All Narconon Riverbend staff was on hand to help with the family friendly event, from the hiding of the Easter eggs to staff/student softball and volleyball games as well as preparing and sharing an Easter feast.
Narconon Riverbend provides comfortable long-term care, allowing the clients (called students) to become completely rehabilitated from drug and/or alcohol addiction. Located in a beautiful and distraction free environment just outside Baton Rouge, Louisiana, Narconon Riverbend is internationally recognized as the best rehab solution for all walks of life.
The Narconon alcohol and drug rehabilitation program prides itself on a higher than average success rate of 75%, which is attributed to its unique drug-free rehabilitation program. This program utilizes nutrition and nutritional supplements, not drugs or medications to solve life problems.
Drug cravings that arise are handled during the Narconon New Life Detoxification program which helps remove the drug toxins stored in the body. These steps are then followed by life skills courses that locate why a person starting abusing drugs in the first place and provides the skills needed to make better choices.
About Narconon Riverbend Louisiana
Narconon Riverbend in Louisiana, located in Denham Springs, is a non-profit alcohol and drug rehabilitation center licensed by the State of Louisiana. The Narconon drug rehabilitation and education program was founded in 1966 by William Benitez and uses the drug-free rehabilitation and social education methodology based on research developed by American author and humanitarian, L. Ron Hubbard. They are dedicated to eliminating alcohol and addiction through drug prevention education and rehabilitation. If you know someone struggling with alcohol addiction or drug abuse and would like more information visit http://www.drugabusesolution.com or call 877-340-3602. Any questions you have in the matter will be addressed in confidence.