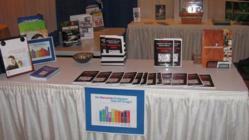 Overall the most immediate call was for more prescription drug abuse education for professionals and families.
Clearwater, FL (PRWEB) April 06, 2013
Narconon East US Executive Director, Yvonne Rodgers was one of nearly 900 attendees at the 2013 National RX Drug Abuse Summit in Orlando, FL this week. Representatives from national, state and local government agencies, community coalitions, law enforcement, treatment and prevention specialists and concerned individuals gathered at the three day conference to discuss creating a coordinated effort to handle the national prescription drug abuse epidemic.
The number of U.S. prescription drug abuse deaths now surpasses the number of driving fatalities. These statistics brought Summit attendees to agree that a coordinated national awareness campaign, similar to the multi-faceted campaigns used to bring down the auto fatalities in the US, was urgently needed to halt the destruction presently being caused by this nationwide epidemic. The awareness campaign would target consumers and professionals.
Recommendations were voiced that such a campaign needs to be flanked by Industry and legislative reforms. These reforms would cover better enforcement of existing laws, insurance and healthcare fraud controls, and improved treatment options.
Conference Chairman, The Honorable Harold "Hal" Rogers, who formed the Congressional Caucus on Prescription Drug Abuse, has tirelessly advocated the fight against prescription drug abuse in his home state of Kentucky for over 20 years. Congressman Rogers called for each attendee to rally the support of their congressional representatives to get on the Caucus and make this issue a priority. He pointed to examples of hundreds of community organizations, like the Summit's sponsors Operation Unite and the Appalachian Regional Commission, who've worked together to improve local treatment and prevention services as well as creating legislative and industry reform that directly impact this horrific problem.
"Overall the most immediate call was for more prescription drug abuse education for professionals and families," says Rodgers. "General Arthur Dean of the community Anti-Drug Coalitions of America stressed the cost effectiveness of prevention, stating that a community saves an average of $20 for each $1 it spends on prevention work. We see similar results with the Narconon Drug Prevention Education talks we do across the US."
About Narconon East US
Narconon Eastern US helps existing Narconon Centers in the East US, as well as establishing new Substance Abuse Centers and Drug Prevention Education centers. The Narconon drug rehabilitation and education program was founded in 1966 by William Benitez and uses the drug-free rehabilitation and social education methodology based on research developed by American author and humanitarian L. Ron Hubbard. The Narconon drug rehabilitation program routinely results in drug-free lives, with the majority of graduates going on to live stable, productive, drug-free lives. These Narconon graduates, whether drug-free for ten, twenty or even 45 years, demonstrate the success and results of Narconon program. If you know someone struggling with alcohol addiction or drug abuse, or are looking for a career in substance abuse visit http://www.narcononeastus.org or call 877-237-3307.