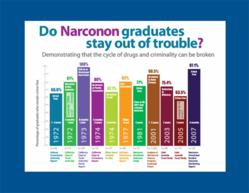 Alcohol and other drug rehab centers have an obligation to monitor and evaluate their results. Narconon has met this challenge.
(PRWEB) April 27, 2013
At the annual Narconon Director's Conference in Oklahoma City, directors of Narconon centers from all over the world were joined by parents who wanted to share their families' successes. Three parents, representing Parents of Narconon, a volunteer group, shared heart-felt stories of their search for an effective rehab service that would save their damaged sons.
At the same event, the president of Narconon International Clark Carr released a compilation of international studies that validate Narconon's long-term outcomes. The anecdotal information from the parents and hard evidence from the studies complemented each other to paint a picture of Narconon success across almost 50 years.
Narconon directors were present from the US, Italy, Russia, South Africa, Australia and Latin America. They met with staff from the international management office of Narconon and ABLE International at the Renaissance Hotel in Oklahoma City over three days in late April 2013.
The three parents thanked Narconon staff for saving the lives of their children as well as so many others, every day in every center around the world. Offering a simple plaque saying 'Our Heartfelt Thanks,' Linda Schwinn, mother of a Narconon graduate, said, "When my son was addicted, I tried to keep it a secret until I just couldn't any more. I kept looking for a long-term rehab that would save his life. If I couldn't find that, I knew I would have to prepare for his funeral." Her eyes teared up as she added, "He has been sober for exactly a year today and I want to thank you for saving his life." Her husband briefly took the microphone to express his thanks, adding, "You make a difference with what you do."
Robert Newman, Sr., told a story about his son who had graduated from the program thirteen years before. "Everyone said his addiction was a disease," Mr. Newman explained, "so I thought I had a diseased son. Then my daughter told me about Narconon and I sent Bobby there. You saved his life and mine too because I was about to worry myself to death trying to figure out what to do."
After the parents had addressed the group, Carr surprised long-time Narconon staff member Jeannie Trahant with a special award for her forty years of unceasing service to the network. Jeannie has helped open or run Narconon centers around the world, starting with the Los Angeles center where she herself graduated in 1973.
Later in the conference, Carr delighted the group of directors and executives with the release of a new compilation of forty years of Narconon program outcome studies.
As this compilation was handed out, Carr stated, "Alcohol and other drug rehab centers have an obligation to monitor and evaluate their results. Throughout its nearly fifty-year history Narconon has met this challenge." Carr showed three striking charts documenting program results not just of drug-free graduates, but also non-recidivism to prison, and graduates' high rate of return to work or school.
The document titled "The Narconon Program - 40 Years of Evidence of Recovery" presents 23 evaluations, of varying formality and study size, from the early days when the program was offered only inside prison walls to later results from rehab centers in West Berlin, Stockholm, Moscow, and the U.S.
A few highlights from this report include:

A 2001 study from Baja California, Mexico reports that one to five years after 1,700 inmates of Ensenada State Prison did some parts of the Narconon program in Ensenada State Prison, only 10% of those who were later released returned to jail in that time period.
A 2005 study of 100 "high-rate criminally offending juveniles" done in collaboration with the Utah Fourth District Juvenile Court showed that 63.5% of the youths studied were 100% crime-free for two years following Narconon program completion, compared to 30.1% of a large control group.
A 2009 follow-up survey of 275 graduates from Narconon Arrowhead (Oklahoma) along with California centers found 77.5% to be drug-free one year later.
"These small and/or large studies begin to validate the Narconon drug rehabilitation methodology developed by L. Ron Hubbard," concluded Carr, "and also the dedication and professionalism of our staff members worldwide who, God knows, have earned it."
For more information on the Narconon program and its results, please visit http://www.narconon.org.