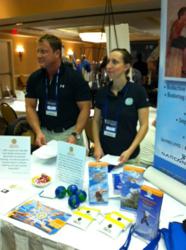 At Suncoast Rehab, we utilize exercise extensively as part of the treatment all of our clients and I can confirm the positive results.
Spring Hill, FL (PRWEB) February 23, 2012
Narconon Suncoast Rehabilitation Center executives and staff attended the 33rd U.S. Journal Training Conference held at the Hilton Clearwater Beach Resort February 13th-16th. As an Alcohol and Drug Rehab Exhibitor, they answered questions and provided information to hundreds of event attendees about their highly successful recovery program.
The U.S. Journal 33rd Annual Training Conference of the Institute of Behavior Health and Addictive Disorders is a premier training event, specializing in mental health and the addictions field. It is where a unique combination of nationally recognized faculty address a wide variety of today's most relevant topics. The result is a highly acclaimed national training event featuring customized training opportunities for developing new treatment strategies and the sharing of research advances for clinicians and counselors.
This year's Training Institute tackled the issues of behavioral health and addictions using an integrated approach which considers the complex emotional, social and spiritual dimensions of each individual. Trauma, mindfulness, neuroscience and therapy, the brain and addiction, spirituality, process addictions, changework, video game addiction and social media, gender specific treatment, cinematherapy, caregiving issues, self-defeating behaviors, ethics, medical errors and other issues were also explored.
"It is always so inspiring to meet other professionals and explore more ways we can work together. I was particularly interested in the follow-up study recently completed by the Journal of Psychosomatic Medicine recently comparing the effective outcome of aerobic exercise to the drug Zoloft (sertraline) for treating depression. Their follow up study looked at these same patients one year later and found that patients in the exercise group had less depressive symptoms than those taking medications," says Tammy Strickling, Executive Director, Narconon Suncoast Rehabilitation Center. "At Suncoast Rehab, we utilize exercise extensively as part of the treatment all of our clients and I can confirm the positive results."
Narconon Suncoast Rehabilitation Center has an outstanding success rate of 76% of graduates achieving recovery from addiction. Suncoast graduates are followed up with regularly and up to 2 years of after-care liaison are still drug-free. The answer to this high rate of success lies with their experienced staff and use of the Narconon program. The Narconon program not only detoxifies the addict's body from drug and alcohol toxins and thereby eliminates cravings, they also train their students on specific life skills courses that address the reasons they sought out drugs or alcohol to begin with. The student leaves Suncoast alcohol or drug-free and with new life skills and knowledge with which to handle life's problems.
About Narconon Suncoast Rehabilitation Center
Narconon Suncoast Rehabilitation Center, located in Spring Hill, Florida, is a private non-profit agency that is licensed by the State of Florida. The Rehab is dedicated to expanding their drug education and prevention efforts so new addicts are not made while daily assisting those in their alcohol drug rehab program to overcome the agony caused by substance abuse so they can again live happy and productive lives without drugs. The Narconon drug rehabilitation and education program was founded in 1966 by William Benitez and uses the drug-free rehabilitation and social education methodology based on research developed by American author and humanitarian L. Ron Hubbard. Narconon is dedicated to eliminating drug abuse and drug addiction through drug prevention, education and rehabilitation. If you or someone you know needs help with an alcohol or drug abuse problem, call a certified counselor day or night for real help now at 1-800-511-9403 or http://www.suncoastrehabcenter.com.
###