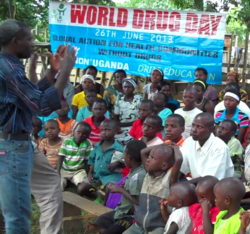 If all people and organizations were doing what Narconon Uganda is doing for youth and all citizens, sustainable human development would prevail on our land of Africa
(PRWEB) June 27, 2013
Narconon, the international network of rehabilitation centers, showed its determination to succeed in the fight against addiction with coordinated support for the UN International Day Against Drug Abuse and Illicit Trafficking. When this event is held every year on June 26th, Narconon never fails to reach out to communicate to clubs, businesses, government officials and people on the streets that something can be done about addiction. This year, the activities ranged from a presentation to an LA County Sheriff's group to anti-cannabis education in Belgium and a community anti-drug celebration in Uganda.
Washington, D.C.
At a symposium on the synthetic drug crisis being suffered in this city, Narconon president Clark Carr balanced the shocking news about the damage these drugs do by revealing the effective methods that can bring a person back to life after addiction to these vicious drugs.
Uganda
In Jinja in the Busoga region of Uganda, Nelson Nuwahereza, a secondary school teacher who also provides Narconon services, gathered with community leaders including the regional commissioner Mr. Mumbwi Domalo. In addition to broad drug education programs, Nelson has been providing Narconon First Step services to hundreds of addicted individuals in this area. Narconon First Step procedures include a humane, drugless withdrawal technique and basic exercises that help put a person back in control of his thoughts and actions.
As part of the UN Day activities a drug education talk was followed by children signing a drug-free pledge. Narconon Uganda was thanked for their help by the commissioner and women's group. "It is very good and sustainable for kids to sign this pledge," stated Commissioner Domalo. "If all people and organizations were doing what Narconon Uganda is doing for youth and all citizens, sustainable human development would prevail on our land of Africa."
United States
Longtime Narconon drug prevention specialist Tony Bylsma spoke to one hundred children who were involved with the LA County Sheriff's Youth Activity League in Compton. The children were enlightened about how drug abuse can destroy their hopes and dreams and how drug problems reach all around the world. In Burbank, Kiwanis club members received a seminar from the Narconon drug prevention group for southern California. Further north the top drug educator from Narconon Vista Bay spoke to children at the Alma Youth Community Center about setting and working toward their goals.
South Africa
Robert Van Der Feyst of Cape Town was out distributing the anti-drug booklet 10 Things Your Friends May Not Know about Drugs and also interviewed young people on why they thought it was cool to be drug-free, for an educational video being produced.
Europe
In Italy, Belgium and Russia, volunteers and Narconon staff contacted more than 5,000 people on the streets, giving them educational anti-drug materials and helping them understand why it is so important to avoid drug use.
"This day has great significance for us because it perfectly aligns with our purpose and our message," said Sue Birkenshaw, who is over the outreach activities at Narconon International. "We intend to work hand in hand with the UN, church groups, schools and community members to fight the drug problem wherever it exists. Together, we can see an end to addiction, trafficking and the heartbreak they cause."
For more information about Narconon drug prevention or rehabilitation services, call 1-800-775-8750.