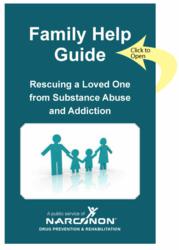 We have compiled our experience into this helpful guide that is offered free for the asking.
(PRWEB) February 23, 2013
Addiction to drugs or alcohol is one of the most destructive forces on earth. When loved ones are struggling with this problem, families often spend more than a decade, trying one thing after another to solve the problem before they ever decide on rehab services. Narconon International now offers families a new tool that can help them identify the real problem and work out the solution faster. It's called the Family Help Guide, Rescuing a Loved One from Substance Abuse and Addiction. It is available free from Narconon International.
According to the Substance Abuse and Mental Health Services Administration, an average of 15.6 years lapses between first use of an addictive substance and the person's admission to addiction treatment. The Partnership at Drugfree.org reports that alcohol abuse alone accounts for 75,000 deaths each year. In 2009, there were almost 29,000 additional drug overdose deaths in the US, according to the National Institute on Drug Abuse. Because of the possibility of death from overdose or accident, there is a not a minute to waste when someone is addicted.
"What very often happens is that families realize too late that they should have chosen drug rehab for their loved one," stated Clark Carr, President of Narconon International. "They may spend years trying to help the person with their employment, family problems and finances without realizing that the real situation required professional help in a rehab center. Because of this delay, many lives are needlessly lost and many families are bankrupted by the years of delay."
The Family Help Guide is designed to walk a concerned family member through all the steps of determining if there is an alcohol or drug abuse problem and if so, if it only needs drug education or if it needs to go all the way to drug rehab. A description of the way addiction can be successfully addressed is included, along with resources to help a family locate a rehab facility.
"When a family has loved and trusted a son, spouse or other member for many years, it is very hard for them to decide that drug rehab is the only realistic solution," added Mr. Carr. "We have been watching people struggle with this process for nearly 47 years and offering our help to rehabilitate these lives. We have compiled our experience into this helpful guide that is offered free for the asking."
Families can download this guide by going to http://www.narconon.org or by calling 1-800-775-8750.