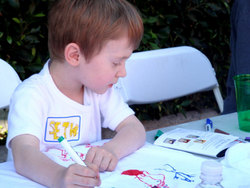 I have never seen an organization in Ghana that has drawn as much respect as Narconon
Los Angeles, CA (PRWEB) July 9, 2009
In Hollywood, California, over twenty-three artists including rappers, singers, dancers and entertainers led by young rapper, Tru Ace, celebrated the United Nations Day Against Drugs performing in a Hip Hop Drug-Free Celebration sponsored by Narconon International.
Their anti-drug lyrics and positive fun messages ignited the crowd who came to their feet and danced, chanting with the artists, "We're drug-free!"
The artists paid a tribute to Michael Jackson, recognizing that this brilliant artist's life came to an end apparently because of prescription drug abuse.
Children sketched colorful and creative personal anti-drug messages on t-shirts, based on statements from the Narconon Ten Things Your Friends May Not Know About Drugs booklet. All of them, studio executives, celebrity managers and agents, politicians, school officials, law enforcement, parents and kids, shared the common goal to work together for a more drug-free community.
Next stop, Narconon Ghana: School students assembled in front of the Kings Palace in the capital, Accra, for a drug education presentation by the District Director of Education. Joining the students were Mr. James Ohemeng Kyei (Director of Pharmaceutical Services), the Chief Pharmacist of the Ghana Health Services, officials from the Narcotics Control Board of Ghana, Mr.Francis Torkornoo (Director of Reduction and Demand), Mr. Sylvester Adu (Director of Treatment and Rehabilitation) and Miss Felicia Wuaku (Director of Education for the Narcotics Control Board).
The Director from the Ghana Health Services recommended that the narcotics officials join Narconon Ghana to spread the Narconon drug education program throughout Ghana. "I have never seen an organization in Ghana that has drawn as much respect as Narconon," he said.
Now further down in South Africa, Narconon Capetown delivered drug education with a special message about "fetal alcohol syndrome," a significant problem throughout the continent of Africa. The day ended at a sports stadium where Narconon staff delivered drug education to children, police officers, firemen, and members of the Department of Social Development.
Meanwhile in 120 degree weather in Pakistan, Narconon Hyderabad held a rally against drugs including farmers, landlords, government officials and people from all walks of life marching through the streets chanting slogans against drug abuse and asking their government to control the alarming increase of drugs. Narconon director Dr.Sharif delivered a speech describing how drugs are ruining millions of lives and Narconon is there to serve.
In cooler Denmark: The Copenhagen Girls Band lead a Narconon march, parading from the Danish Parliament through the main city streets, distributing thousands of pieces of drug education and prevention materials.
In Bogata, Colombia, Narconon staff and volunteers held an event in Soacha Cundinamarca, where they presented the police a recognition for their valiant work against drug abuse and illicit trafficking.
Finally, up in Quebec, Canada, Narconon Trois-Rivieres drug rehabilitation center celebrated by producing the first Narconon live internet graduation.
A lot of fun, but fun focused on a high and good purpose.
# # #