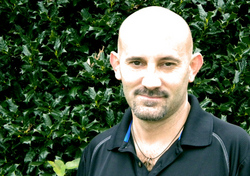 When I came here, I was an alcoholic, but now I am not. I am a sober and productive person. If I can do it, anyone can.
Norcross, GA (PRWEB) December 16, 2009
In an interview following his graduation Dan said he knows that if the Narconon program had not worked, he would now be dead. Instead, this Christmas he is happily sober enjoying the Holiday with friends, while helping others with their sobriety at Narconon.
Last Christmas, Dan was recovering from pancreatitis (a symptom of Alcohol Abuse) having just gotten out of the hospital. He was still drinking and had only stopped while he was in the hospital. He was not go to make it.
No one knew he was ill except for a few co-workers - he had not spoken to his family in several years; and, his children did not know if he was alive or dead.
Twenty five years of drinking had its toll on Dan. 65 days in jail, a broken marriage, and being homeless were some of the consequences of an addiction that Dan just couldn't shake despite eight attempts at rehab. Going from a nearly six figure job to homeless speaks to the severity of his drug addiction – yet he could not stop.
For twenty five years, except when he was in treatment, Dan would go to work, come home and drink to oblivion, only to repeat the cycle the next day. He was not a reliable employee, and lost a few jobs, but overall Dan describes himself as somewhat functional, at least when it came to work. He was not functional however, when it came to personal relationships.
Ashamed without really much to say, Dan simply stopped speaking to his family and children for years. He is now working on rebuilding those relationships. While it will take some time, he has already begun speaking again with his daughter and was happy to learn she was recently engaged.
Dan's life was saved by his coworkers. Dan learned about Narconon drug rehab on the internet and after hearing about the program, felt that it would work for him.
He had no idea how he could ever afford to do another treatment program. However, his heart was set on Narconon and he arrived, almost as if by magic. His friends bought him an airline ticket and his insurance company agreed to pay for his treatment.
In summing up his experience, Dan stated "The time and the circumstances were right."
"I feel like a giant weight has been lifted off of me. I don't feel hopeless and helpless anymore. When I came, I was scared because rehab had never worked for me. But this did work and now I have my life back. Not only can I stay sober, but I can be a good father, a good son, a good future husband, and a good brother. Most importantly I can help others.
"I can be and am the person I was before I started drinking. I am someone to be trusted and I am here for those who need me.
"I would like to tell others this holiday season, no matter where you are in your life right now, don't give up. Even if you have been in other drug rehab programs, this program can save your life.
"When I came here, I was an alcoholic, but now I am not. I am a sober and productive person. If I can do it, anyone can."
###