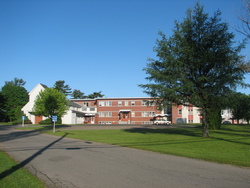 Many of the clients who come through the Narconon drug rehab program have been through previous treatment that has labeled their addiction as a disease
Trois-rivières, QC (PRWEB) July 9, 2009
Trois-Riveres, Quebec (PRWEB) July 9, 2009 - The Narconon drug rehab program has long believed that addicts are not predisposed to suffering from a disease called drug addiction. In fact, we believe that addiction is directly related to personal choice, because of negative life changing events, which the individual is incapable of handling. A new book called Addiction: A Disorder of Choice, written by Gene Heyman, a lecturer in psychology at the Harvard Medical School argues that addiction is not an involuntary disease, but is created by personal choices. The disease model of addiction has long been one of the most looked at and practiced theories within the psychology community for many years. It has been believed for a long time that drug addicts cannot control their addiction, and according to Heyman, this is ultimately wrong.
Heyman looked at different factors that can influence an addict to stop using, and pointed out there are thousands of ex-addicts who have beat their addiction. These influential factors can include, values and laws, having worries about being arrested, financial problems, and even respect from family. When he looked at these different factors, it turned out when you actually review the literature broadly, an addict does stop using because of some of these different factors. "Many of the clients who come through the Narconon drug rehab program have been through previous treatment that has labeled their addiction as a disease," says Nick Hayes, a representative of the Narconon drug rehab program in Canada, "once these individuals rediscover the reasons why they started using and gain more abilities to be cause over their life, this idea of addiction being a disease slips away."
Gene Heyman agrees that addicts are self destructive, but they do have the ability to change once the consequences are real and these many different factors come into play. It can be argued that labeling addicts diseased can potentially make things worse, and could give the addict a crutch to lean on to continue using. Smoking has always been considered an addiction, and nicotine is a drug. The Surgeon General reports that are released show 80% of smokers have quit, so it seems that people can quit an addiction. For more information about helping a loved one battling drugs or alcohol addiction, call the Narconon program at, 1-877-782-7409, or visit the website at, http://narconon.ca/
(Ref: Works Cited CTV News Staff "Addiction is voluntary, author contends in new book." CTV.ca 17 June 2009: http://www.ctv.ca/servlet/ArticleNews/story/CTVNews/20090617/addiction_090617/20090617?hub=Health)
© 2009 Narconon Trois-Rivières. All Rights Reserved.
NARCONON is a trademark and service mark owned by Association for Better Living and Education and is used with its permission.
###