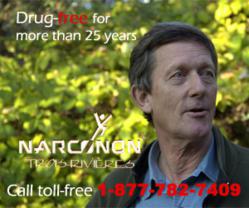 The graduates of Narconon shows, that drug and Alcohol addiction can become a thing of the past. - A. Ahern
Trois-
Rivieres, Quebec: (PRWEB) February 08, 2012 -- Sadly, for many people, addiction is literally a dead end road. They neither want nor need (according to them) help from anyone. Many don't believe they can be helped, even though they do realize, deep down, there is a problem. "Graduates from Narconon Rivieres have a message for them; addiction can end, and living happily drug free is within reach" says André Ahern, Director of Community Relation of Narconon Trois Rivières.
Addiction has a very powerful grip. It begins to encompass each aspect of an individual's life until nothing matters but the drugs and/or alcohol. Family members often realize the problem long before the addict. What addicts fail to realize is that without rehabilitation, the ultimate result of addiction is incarceration or death.
Some addicts, many in fact, begin to resort to crime to pay for their habit. They will steal even from family members. Their emotional state becomes so that they may resort to violence, even if they never showed that characteristic before. Addiction is powerful indeed. Some of the graduates in the video know all-too-well how that feels.
In a new video ( http://www.youtube.com/watch?v=fcDtsKbTe2E ), graduates from the drug rehabilitation program at Narconon Trois Rivières bring insights on how it was before, during and after recovery. This video not only celebrates their success at becoming drug free. It also reveals, to those who are still in the grips of addiction, that happiness and life without drugs is possible. "The graduates of our rehabilitation program eagerly look forward to their return to society with a brand new, positive outlook on life". Says M. Ahern.
Narconon Trois Rivières has been helping people end their drug addictions since 1998. They offer a long term, residential, natural, drug-free program which has helped hundreds of people go on to live free from addiction. Their program is unique in that they not only rid the addict's body of drugs, but also teach them skills to help them to stay drug free after graduation.
This new video shows the emotionally charged graduates speaking of life with, and now without drugs. They have opted to take what is normally reserved for close friends and family, and use the graduation ceremony to reach out to other addicts. Their message is one of understanding, and of hope. These videos have become something of a tradition at Narconon, in which graduates gladly participate. M. Ahern goes on and declares: "The graduates of Narconon shows, that drug and Alcohol addiction can become a thing of the past".
The stories of these graduates are offered to inspire other addicts, or their families to seek out help. Narconon Trois Rivières offers a plethora of drug information on their website, and there are always counselors available to speak with addicts or family and friends. They will give the straight answers to the tough questions. As these graduates proudly proclaim, there is happiness beyond addiction, and they have found it.
To get this free DVD call: 1-888-247-6966
###