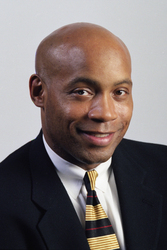 The enthusiasm expressed from all quarters at today's event indicates the positive spirit across our university community about the appointment of Dr. Stuart C. Lord.
Boulder, Colo. (Vocus) April 10, 2009
Naropa University (NU) has announced the appointment of Stuart C. Lord, DMin, current associate provost at Dartmouth College in Hanover, New Hampshire, as the 5th president of Naropa University, starting in July 2009.
The search process began after Naropa's current President Thomas B. Coburn announced that he would step down at the end of his six-year term. The university created a presidential search committee, comprised of trustee, faculty, student and staff representatives that worked closely with the search consultancy Storbeck/Pimentel & Associates to guide the search process.
In December 2008, the search committee interviewed select applicants and in mid-January 2009, the top two candidates were invited to campus to make formal presentations and engage with Naropa's faculty, staff, students and the Boulder community. Following these sessions and after a review of the input received, the search committee recommended the appointment of Dr. Lord as Naropa's next leader to the board of trustees on March 1, 2009. The board then confirmed the search committee's recommendation.
Board of Trustees Chair Martin Janowitz announced the appointment to Naropa students, staff, faculty, and alumni on Wednesday, April 8, 2009. "Naropa University is delighted to have selected a new president who is superbly matched and equipped to serve both the university's current and future needs," says Janowitz. "The enthusiasm expressed from all quarters at today's event indicates the positive spirit across our university community about the appointment of Dr. Stuart C. Lord."
An experienced educational leader, Dr. Lord brings to Naropa a commitment to multicultural diversity, civic responsibility and ethical leadership. Dr. Lord is an active member at the Karme Choling Shambhala Meditation Center in Barnet, Vermont. Dr. Lord was raised in New Rochelle, New York. After graduating from Texas Christian University in 1982, Dr. Lord attended Princeton Theological Seminary where he earned the degrees of Master of Divinity (1986) and Master of Theology (1987). In 1993, Dr. Lord received the Doctor of Ministry degree with a specialization in multicultural education from Union Theological Seminary. In 2002, Dr. Lord was the recipient of the Texas Christian University Distinguished Alumni Award.
Dr. Lord, 49, has helped foster the growth and advancement of many communities as both educator and humanitarian. He has served as an administrator and managed civic education, community service, and religious and spiritual life programs at both Dartmouth College and DePauw University. In these positions, Dr. Lord has developed programs that aid under-resourced domestic communities, including New Hampshire's Upper Valley, the Mississippi Delta and the areas ravaged by Hurricane Katrina. He has also perennially led international service trips to developing nations, including Bangladesh, Nicaragua, the Philippines and Sierra Leone. In addition, Dr. Lord served as executive director of the 1997 President's Summit for America's Future, working under General Colin Powell during the Clinton administration.
During his time at Dartmouth College, from July 2000 to present, Dr. Lord has served as associate provost (2000-present), interim vice president for institutional diversity (2006-07), and Virginia Rice Kelsey '61S Dean of the Tucker Foundation (2000-08). As associate provost, Dr. Lord has worked on initiatives for institutional planning within the Provost Division to enhance staff development, retention and recruitment in support of diversity.
As dean of the William Jewett Tucker Foundation, Dr. Lord helped the foundation emerge as one of the nation's leading on-campus civic service and spiritual life centers with student body participation in the foundation's programs growing from approximately 45 percent to more than 70 percent during his tenure. To foster and support this growth, Dr. Lord restructured the administrative backbone of the foundation, defined a new strategic direction, increased annual giving by more than 800 percent, and oversaw a near tripling of the endowment. These successes allowed for the expansion of program offerings and have stabilized the long-term outlook of the foundation.
Appointed as Dartmouth's vice president for institutional diversity and equity on an interim basis for the 2007-08 academic year, Dr. Lord provided campus leadership on issues of equity, diversity and equality. In conjunction with school deans and department heads, he worked to establish diversity plans for each graduate school and department and for the provost's division. In this position, Dr. Lord also advised the college's president and Human Resources on diversity-related campus and personnel issues. In addition, Dr. Lord sponsored campus dialogues on issues of diversity and equity.
At Dr. Lord's introduction to the Naropa University community he stated, "I am delighted and honored to have been elected by the board of trustees as Naropa's president. I very much appreciate the encouragement and support that I have received from so many members of this community. I take on this responsibility with great seriousness of purpose, with great enthusiasm and with great joy.
I believe in the values of transformation. We, the community of Naropa University, affirm both the idea and ideals of a contemplative education, of its transformative purpose of teaching, learning, discovery and research. The goal of a Naropa education is transformative work in the world….The value of contemplative education is measured in Naropa students' ability to put their wisdom and insight into practice through creative, helpful and effective action.
My job as president will be to make sure that Naropa not only transforms students, but also transforms as an institution to be the best contemplative liberal arts university in the world."
Accredited by the Higher Learning Commission of the North Central Association of Colleges and Schools, Naropa University is a private, nonprofit, nonsectarian liberal arts institution dedicated to advancing contemplative education. This approach to learning integrates the best of Eastern and Western educational traditions, helping students know themselves more deeply and engage constructively with others. The university comprises a four-year undergraduate college and graduate programs in the arts, education, environmental leadership, psychology and religious studies.
Naropa University
Sue Seecof
Publicist, Marketing and Communications
720-878-2696
###