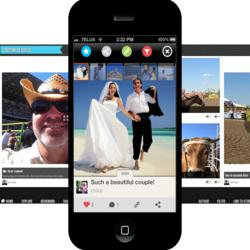 Narr8r is to story, what other social networks are to people.
Ottawa, Canada (PRWEB) September 05, 2012
At the heart of Narr8r is 'linkage'. Narr8rs connect with others at the Eiffel Tower, at a wedding, a concert, party or even at a protest. Users form ad hoc social networks in real time, around the stories that matter in their lives. With autoplay users take guided tours, curate walks in their neighborhoods, or listen to where friends pinned music in augmented reality … all without ever taking their phones out of their pockets.
Whether a band releasing gig locations, a movement getting the word out, an author revealing research, a parent recording first steps, a chef sharing a favorite recipe, a visitor discovering a new hotspot, a bride on her wedding day, a traveler on the trip of a lifetime, or a boyfriend leaving a secret message at the bus-stop, Narr8r is a whole new way to create, link, and share stories on mobile and web.
"In Narr8r we wanted to create a platform not only for collaboration, but also for social good," says founder Michael Stewart. "Social media has a 'social' responsibility. Every year, Narr8r will donate 2% of its revenue to charities selected by fellow Narr8rs. We're committing a minimum of $5,000 to support choices in 2012."
Don't just "like", Narr8. And get the whole story on iTunes and at Narr8r.com.
About Narr8r
Narr8r was founded by storytellers from publishing, film, documentary, television, and new media. We wanted a way to create stories together on the web and mobile. Now everyone can with Narr8r.
See the demo.