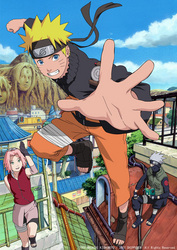 (Vocus) April 14, 2010
VIZ Media delights fans with the announcement of the forthcoming release of three exclusive new NARUTO trading cards for Bandai America's official NARUTO SHIPPUDEN Collectible Card Game (CCG).
In April, the first card featuring the series' main character, Naruto Uzumaki, will be included in Bandai's Series 17 Hobby Booster Boxes. Another exclusive card featuring Sakura Haruno will be bundled as a special bonus in Volume 48 of the NARUTO manga series (rated 'T' for Teens), set to be published in June. A third card will feature Kakashi Hatake and will be included in the August issue of SHONEN JUMP magazine, the best selling monthly manga anthology in North America. The issue hits retailers on July 6th, 2010. These cards will only be available as exclusives for these products.
Fans that collect all three NARUTO cards are eligible to receive a special fourth card at one of Bandai's numerous SHONEN JUMP Championship Tournament locations. This fun tournament allow players to test their skills against other opponents to win special prizes, and culminates in the National Championships to be held at the Gen Con Indy taking place in Indiana on August 7th and 8th.
In addition, attendees at selected Tournaments will have a chance to win the special fourth card with the autograph of Masashi Kishimoto, author of NARUTO.
NARUTO SHIPPUDEN CCG, Bandai America's top selling collectible card game, is a game of strategy where players construct card decks of Ninja that use their powerful Jutsu to complete missions and protect their villages. The NARUTO SHIPPUDEN CCG currently has hundreds of tournaments held each week at local hobby retailers throughout the United States.
For the most up to date information on the NARUTO SHIPPUDEN CCG and to see the official rules, Naruto CCG SHONEN JUMP Championship Tournaments or Bandai America Inc., please visit: naruto.viz.com/sjtourney. Or http://www.bandaicg.com/shonenjump.
For more information on NARUTO and NARUTO SHIPPUDEN please visit http://www.NARUTO.com.
Evelyn Dubocq
VIZ Media (415) 644-9238
###