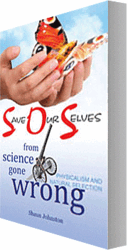 So why aren't all species extinct? Possibly because the cell's repair apparatus is so accurate there may be no incidence of mutations for natural selection to work on, and evolution would then have to be due to some other mechanism.
Rosendale, NY (PRWEB) September 30, 2012
In its 2008 publication on evolution the National Academy of Sciences (NAS) provided for general readers a non-technical account of how evolution works. On April 2 2012 Shaun Johnston, writer of five books on evolution and publisher of the website http://www.takeondarwin.com, posted on that site an analysis of the argument presented in the NAS book, concluding that the account appeared to contain a flaw. Johnston ended the article, "I plan to ask members of the committee responsible for the NAS book for a way out of what appears to me to be a dilemma. But until I hear from them I'd welcome your opinions." No contradictory opinions were received, and letters Johnston sent to the NAS committee members remained unacknowledged. The article containing Johnston's analysis was viewed over 1000 times in the six months since it was posted.
At issue is the ratio of harmful to beneficial mutations and the role of natural selection in changing the balance between them. Johnston started his article, "According to how the modern synthesis is explained to the public, evolution is due to natural selection changing the preponderance of harmful mutations in each new generation to a preponderance of beneficial mutations entering the gene pool. But unless natural selection is 100% efficient this is not possible."
"I am of course looking at the action of natural selection through a less usual end of the telescope," Johnston acknowledged. "Usually one considers how natural selection, acting over millions of generations, is able to amplify the frequency of a single beneficial mutation to dominance of its allele, no matter how slight the efficiency of natural selection is. Seen this way round, individual harmful mutations quickly fade out of existence. But when you take relative prevalence of harmful and beneficial mutations into account, for all practical values of its efficiency natural selection can't in each generation change a prevalence of harmful mutations into a prevalence of beneficial mutations. Can it?"
The http://www.takeondarwin.com website maintains resources helpful to those concerned with the rationale behind modern evolutionary theory. It offers reviews and quotes from such notables as Gertrude Himmelfarb, John Maynard Smith, biology professor emeritus Stanley Salthe, British science writer Gordon Rattray Taylor, and British cell biologist Brian Ford. The article quoting from Gertrude Himmelfarb has been accessed over 1500 times. An article titled "Top 10 Reasons for Doubting Natural Selection" has been accessed 2500 times. Besides his website and five books Johnston has just published online a play for two characters, "A Dialogue Between Charles Darwin and Galileo on What it Means that We're Evolved." Johnston performs this play free for student groups in the NYC Area and the mid Hudson Valley where he lives.