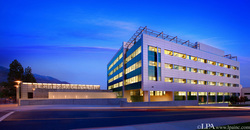 The Flight Projects Center honors the leadership NASA exhibits in space with a thoughtful and sustainable building that practices efficiency and treads lightly on the earth
Pasadena, CA (Vocus) October 20, 2009
NASA's Jet Propulsion Laboratory (JPL) debuts its new Flight Projects Center Monday, Oct. 26 at 10 a.m. JPL is a Federally-funded research and development facility managed by the California Institute of Technology (Caltech) for the National Aeronautics and Space Administration (NASA). The original ribbon cutting was postponed due to last month's Station Fire which threatened the Lab's northern edge. The ceremony will honor JPL's LEED Gold Flight Projects Center, the greenest completed facility in the NASA family.
Since 2000, GSA has mandated all new federal construction and major modernization projects to attain, at minimum, a LEED Certified rating while striving for LEED Silver. Thanks to the sustainable architects at California-based LPA Inc., JPL's Flight Projects Center surpasses this mandate to achieve Gold Certification on a Silver budget.
"We are proud of the new building - not only for the exciting work on space missions that will take place within its walls, but also because it uses the latest 'green' technology to help us protect the environment we live in on Planet Earth," said JPL Director Dr. Charles Elachi.
From high efficiency chillers to fan wall technology, energy efficiency was a key driver at JPL. The Flight Projects Center is a Savings by Design participant and Energy Star Challenge for Architects award recipient (2007). According to LPA President Dan Heinfeld, these types of acknowledgments are needed because we cannot afford the luxury of buildings that don't make real reductions in water and energy use.
Sustainable features

The building will save an estimated 500,000 gallons of water every year.
Low-flow faucets and toilets will reduce water use by more than 44 percent compared with typical fixtures.
A vegetative roof will keep the building cool in the summer and warm in the winter. The green roof will also help minimize storm water runoff into the Arroyo Seco, a dry riverbed near JPL.
Outdoor lights will be used solely for safety purposes. The lights are directed toward the ground, reducing the amount of light pollution that escapes to the night sky.
Drought tolerant, native plants and landscapes use 72 percent less water.
Improved wall insulation, efficient chillers and boilers, window shading devices and the green roof will greatly reduce energy needs.
Daylighting and lighting controls help the facility perform 25 percent more efficiently than the typical California office building.
Displacement ventilation delivers cool air at the floor level of the auditorium which provides better interior air quality and a quieter acoustic environment while also saving energy.
More than 93 percent of the waste generated during construction was diverted from a landfill to a local recycling facility. Wood was acquired from Forest Stewardship Council certified suppliers, ensuring sustainable harvesting of trees.
The paints and other surface materials have low levels of undesirable, toxic fumes.
Smart heating and cooling systems know whether people are in a room or not, and adjust temperatures and ventilation accordingly.
The janitorial staff will use green cleaning products and practices.
Showers and bike racks encourage people to leave their cars at home, and bike or walk to work.
"The Flight Projects Center honors the leadership NASA exhibits in space with a thoughtful and sustainable building that practices efficiency and treads lightly on the earth," said LPA Architect Keith Hempel. "It's our first project for the federal government, and we're honored to be part of the JPL legacy."
The six-story center will house missions in the busy design and development phases, when engineers and scientists from around the world must work together closely. The 190,000-square-foot building includes a 400-seat auditorium, basement, conference rooms and private, yet flexible work stations. The building is designed to exceed California's stringent Title 24 requirements by 25 percent. The General Contractor for the project was Swinerton Builders Inc. with Vanir Construction Management Inc. providing construction management services.
For media credentials to the JPL Ribbon Cutting Monday, Oct. 26 at 10 a.m.
JPL Media Contacts:
Mark Petrovich
(818) 393-4359
mark(dot)petrovich(at)jpl(dot)nasa(dot)gov
Elena Mejia
(818) 393-5467
elena(dot)mejia(at)jpl(dot)nasa(dot)gov
For more information about JPL, visit http://www.jpl.nasa.gov or follow them on Twitter at @NASAJPL.
Project Address:
Flight Projects Center, Building 321
4800 Oak Grove
Pasadena, CA 91109
About LPA Inc.
Founded in 1965, LPA has more than 230 employees with offices in Irvine, Roseville, and San Diego, Calif. LPA provides services in architecture, planning, interior design, engineering, landscape architecture, signage and graphics. They have more LEED certified buildings than any firm in the state and of their employees, more than 78 percent are LEED accredited professionals. With extensive experience in public and private architecture, LPA designs a diversity of facilities that span from corporate and civic establishments to K-12 schools, colleges and universities.
###