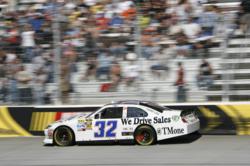 "TMone's new facilities in Dakota Dunes and Des Moines presents an exciting opportunity and positions the company for additional growth to support Business Processes with elevated security requirements," said John Burchert, Chief Operating Officer
Iowa City, IA (PRWEB) May 31, 2012
TMone, a leading Iowa and South Dakota call center Insourcing firm specializing in business to business (B2B) inside sales and business to consumer (B2C) customer service has been named for the fourth consecutive year to the Corridor Business Journal's List of Fastest Growing Companies. The announcement coincides with the announcement that TMone is opening a new state-of-the-art Contact Center in Dakota Dunes, South Dakota, the upgrade to their employee's work-life environment in Des Moines, Iowa with a strategic move to a Corporate Campus and TMone's 12th consecutive sponsorship of the FAS Lane Racing #32 Ford this NASCAR Sprint Cup season for the running of the Coca-Cola 600 at Charlotte Motor Speedway. The Company is actively hiring in all 4 Service Delivery locations for Operations Managers, and Inside Account Manager positions with a focus on Spearfish, SD and Iowa City, IA.
The Corridor Business Journal honor was based on a pool of nominated companies that were selected by revenue growth over a three-year period. TMone was one of only 3 companies to receive the award every year since its inception and the only in the Business Services class to do so.
"Our client's is our growth," said Anthony Marlowe, President. "TMone is committed to delivering the same excellent client experience and key performance indicator (KPI) results as we provided to our first client almost 10 years ago. The equation is simple, we enable profitable growth for our client's and they return the favor with loyalty to TMone for their Call Center Business Services needs."
TMone recently relocated its Des Moines Operation to the Bell Avenue Business Building in Des Moines, Iowa from its previous contact center location. The Bell Avenue Business Building's provides TMone employees and clients with an all-in-one corporate office environment with an onsite childcare, cafeteria and other amenities. The company mentioned the move was strategic to its ability to be highly scalable with its Iowa Operations specifically.
The new Dakota Dunes contact center provides clients with access to a state-of-the-art facility equipped with the latest and best-in-class call center technologies. The new facility for TMone will replace the previous location in North Sioux City beginning July 1st, and add approximately an additional 50 employees over the next twelve months. With growing Information Security and Physical Security requirements by the companies Fortune 500 client base TMone has deployed its first call center within a contact center providing multiple separate technological and physical work environments under one roof.
"TMone's new facilities in Dakota Dunes and Des Moines presents an exciting opportunity and positions the company for additional growth to support Business Processes with elevated security requirements," said John Burchert, Chief Operating Officer. "TMone recognizes that high levels of employee satisfaction lead to higher levels of client and customer satisfaction, the new Dakota Dunes and Des Moines facilities just made sense for TMone and our clients as we continue to set ourselves apart as a professional services organazation."
About TMone: TMone (pronounced T-M-one) is a leading National U.S. call center business process insourcing firm specializing in Customer Relationship Management (CRM), Inside Sales and Customer Service Selling (CSS). When it comes to business-to-business (B2B) and business-to-consumer (B2C) customer interactions, TMone is unsurpassed in its ability to provide best in class results in performance, cost containment, quality, and client satisfaction. This approach has made it one of Inc. Magazine's Fastest Growing Private Companies in America five years in a row. Headquartered in Iowa City, Iowa with additional service delivery facilities in Des Moines, Iowa, Dakota Dunes and Spearfish, South Dakota. To learn more about TMone or their NASCAR Sprint Cup #32 Team Sponsorship go to http://www.TMone.com or TMone's NASCAR Racing Page on Facebook.