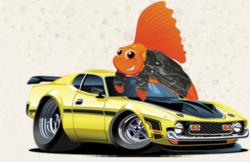 He was my hero and as the T.V. detective, Beretta, used to say don't do the crime if you can't do the time.
New York, NY (PRWEB) February 20, 2012
RoadFish.com men's lifestyle and finance magazine bestows Jeff Gordon with words of caution after the four-time NASCAR Sprint Cup champion was involved in a frightening car crash during yesterday's Budweiser Shootout. During the 75-lap race that kicked off the 2012 NASCAR season yesterday, Gordon's car did three barrel-rolls on the second to last lap and landed on its hood. Gordon walked away from the costly crash unharmed.
Fox News gave a detailed step-by-step report that covered the cause of the crash. The article stated that Gordon was heading into Turn 3 which placed him just behind Kyle Busch, who was in second place at the time, and Tony Steward, who was in first place. As the drivers moved from Turn 3 and into Turn 4, Gordon's car made contact with Busch's back bumper which sent Busch's car down into the apron, or the paved portion of a race track that separates the road from the infield. Gordon's car moved to the outside of the pack and hit Kurt Busch, causing both Gordon's and Busch's vehicles to bank hard into the wall. In their wake, Marcos Ambrose hit driver Jimmie Johnson, pushing Johnson's car into Busch and Gordon. At this point Gordon's car was pushed onto the driver's side and slid for approximately 1,000 feet before doing three barrel-rolls and coming to rest on its roof.
Despite rolling several times and landing upside down, Jeff Gordon walked away from the car on his own, and was determined to be uninjured by the Daytona infield medical center. Kyle Busch ended up winning yesterday's race by gunning past Tony Stewart in the final stretch.
Fox News included a statement made by Gordon after the race: "It was just getting down to the end of the race and it was time to go. Me and Jimmie were looking good there. We knew those guys were coming, and once Kyle got in front of me, I was just trying to keep Jimmie on me and trying to stay with Kyle. Every time I got to Kyle's bumper, he just started getting so sideways, like he was a lot tonight. And I thought he was going to wreck. I saw him start to spin, so I went wide, not knowing someone had gotten to my outside. That got me into those guys and into the wall and along for a ride. And then Kyle wins the race, so it was a pretty wild and crazy way to get it all started. It was certainly an exciting finish, but not the way our Drive To End Hunger Chevrolet wants to get the 2012 season started."
RoadFish.com's editor is quoted saying, "I remember my dear old dad and at the age of 40 decided to do his first wheelie on a motorcycle. We were all playing football in the street and he kept going by cautiously until he had the guts to give it some gas. He went first to his feet then on his stomach and rode that bike like Superman up the curb and into the bushes. He was my hero and as the T.V. detective, Beretta, used to say don't do the crime if you can't do the time."
Jeff Gordon has won the Sprint Cup Series four times in his career and the Daytona 500 three times. Gordon became the first driver to reach $100 million in career winnings in the Cup series in 2009. In his two-decade career, this is the first time a car that Gordon was racing has ended up on its roof.
RoadFish.com's editor enjoys the thrill of watching racing, but commented that "a lot of times no one thinks about what a fragile sport it really is. One wrong turn, and these guys are toast! It takes a lot of guts to get behind that wheel for every race."
The next race will take place on February 23rd, the Gatorade Duel 1, which is the first of two 150-mile qualifying races that will determine the starting lineup for the 54th annual Daytona 500.
About Roadfish
RoadFish.com is an online men's lifestyle and finance magazine targeted toward men in their 30's and 40's that have already attained a moderate level of success in life, and are striving toward more. It goes over current events of interest to this group, such things as exciting adventures, consumer interests,finance, and dating tips, as well as ways to make more and save more money. It is a publication owned by Purpose Inc.
###