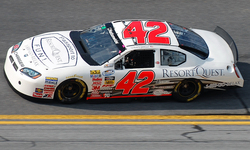 It was a combination of great talent and enthusiastic support from our sponsor, ResortQuest of Northwest Florida, and all the great fans of the #42 Dodge
Daytona, FL (PRWEB) July 9, 2009
With a promising showing in Friday's Subway Jalapeno 250 at the Daytona International Speedway, the #42 NASCAR Nationwide Series Dodge sponsored by ResortQuest of Northwest Florida qualified 5th and finished 27th. ResortQuest is honoring the enthusiastic support of the #42 Team by launching a sweepstakes for a free 6 night/7 day stay in a vacation rental property in Northwest Florida or coastal Alabama.
The #42 Smith-Ganassi Dodge driven by David Gilliland ran in the top 15 for the majority of the first 80 laps but was ultimately hindered by a late pit stop and an on-track collision. Gilliland's insight and experience still brought the #42 Dodge in ahead of drivers Eric McClure (#24), Danny O'Quinn (#01), Kerry Earnhardt (#31) and Dale Earnhardt Jr. (#5).
Team co-owner, Eddie Smith, is encouraged by the team's showing and has high hopes and expectations for upcoming races. "It was a combination of great talent and enthusiastic support from our sponsor, ResortQuest of Northwest Florida, and all the great fans of the #42 Dodge" said Smith. "Smith-Ganassi Racing with Evander Holyfield would like to encourage all of our fans to register to win this great vacation being offered by ResortQuest. We need to let our sponsor know how much David, the fans and the rest of us at Smith-Ganassi appreciate them making Daytona possible for us all."
ResortQuest of Northwest Florida is one of the nation's leading professional vacation rental property companies, featuring over 2,700 vacation rentals in Northwest Florida and 200 in coastal Alabama. Guests may register for ResortQuest's sweepstakes at ResortQuest sweepstakes through July 30, 2009. A winner will be selected at random on August 3. The winner may then select from any two-bedroom accommodation from ResortQuest's fine menu of properties in the Northwest Florida/coastal Alabama area. ResortQuest of Northwest Florida properties feature the exclusive Passport to Fun - a program for its guests that includes free deep sea fishing, free snorkeling, water park tickets, amusement park tickets, sunset cruises, complimentary dining and much more every day of the guest's stay. The Passport to Fun is available to all guests of ResortQuest of Northwest Florida and brings exceptional value to vacationing families.
###