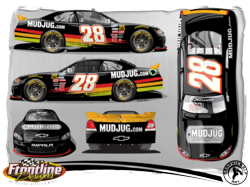 We are huge NASCAR fans here at Mud Jug
Rancho Cucamonga, CA (PRWEB) July 27, 2011
As hot weather continues to sweep across the nation, the race for points on the NASCAR Nationwide series is also heating up. This weekend's Kroger 200 at the Lucas Oil Speedway in Indianapolis will be important not only for driver point standings, but also for team sponsors. Mudjug Portable Spittoons is very proud to announce they will finally have a primary sponsorship spot on the #28 car for this weekend's race. The #28 car owned by Jay Robinson Racing, will be driven by longtime Nascar veteran and past Daytona 500 winner, Derrike Cope.
"NASCAR fans are definitely our target market", says Mud Jug owner Darcy Compton. "Plus, we are huge NASCAR fans here a Mud Jug". Mud Jug's owner and president will be attending the race, cheering on the #28 car.
Made of high impact injection molded plastic, the Mud Jug boasts a weighted base and easily removable, snap-fit funnel lid. Its ergonomic design fits securely in a hand and its innovative shape conceals odors and virtually eliminates spills. Say goodbye to nasty spit cups and spit bottles. Now spit and not worry about spilling or drinking from the wrong cup.
"This is a huge opportunity for us to make Mud Jug a household name", says Compton. With plans to be a primary sponsor in several upcoming races, Mud Jug Portable Spittoons is well on it's way to winning many new loyal customers.
Mud Jugs are available exclusively through Mud Jug's website and Facebook fan page. Enter coupon code INDY for 10% off any order. Although only available online at this time, plans are currently in the works to expand Mud Jugs into larger retail outlets. 'One day major retail chains will realize that there is a tangible market for portable spittoons. Then consumers will find Mud Jugs in major retail outlets' Compton says.
Don't get stuck in last place. Be a winner; grab a Mud Jug Portable Spittoon.
About Mud Jug: Mud Jug Portable Spittoons was founded in 2004 by innovator/owner, Darcy Compton. The goal was to provide consumers with a unique spitting solution. Hence, the spill-resistant, Mud Jug Portable Spittoon was born. Mud Jugs are proudly made in America.
For more information please visit mudjug.com
###