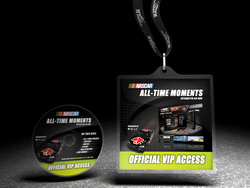 It's an enormous honor to partner with NASCAR, and we are excited to bring our award winning-digital design to the sport
Charlotte, NC and Vista, CA (PRWEB) September 18, 2007
The National Association for Stock Car Auto Racing (NASCAR) and 4DCard, Inc. (4DCard, http://www.4Dcard.com) announced today a licensing agreement in which 4DCard will build, sell and market digital CD/DVD "Interactive Trading Cards" officially licensed by NASCAR.
These NASCAR-licensed Interactive Trading Cards are specifically designed for use in personal computers and CD/DVD players. Each title features exclusive content, classic race footage, interviews, historical footage of NASCAR's beginnings and will be narrated by NASCAR drivers and celebrity personalities. (http://www.4dcard.com/promo)
This new relationship with NASCAR reflects 4DCard's expansion into auto racing. In anticipation of the project, 4DCard's engineering team has fine tuned its digital media content system to meet the speed, thrill, intensity, competitiveness and passion true to the sport of NASCAR-racing. Acknowledged as an industry leader in its unique styling, quality graphics and innovation, this new line of NASCAR-licensed Interactive Trading Cards are poised to meet the standards and expectations of more than 75 million loyal NASCAR fans.
"It's an enormous honor to partner with NASCAR, and we are excited to bring our award winning-digital design to the sport," said Thomas Carter, 4DCard founder and CEO. "NASCAR fans will soon enjoy the excitement of NASCAR digital content on collectible Action Cards."
"NASCAR is excited to partner with a leader in producing digital sports and entertainment media properties for this unique series of premium and collectible merchandise," said Blake Davidson, NASCAR's managing director of licensed products. "NASCAR fans' passion for the sport and its drivers extends beyond the track. These fans are early adopters of new technology-based products, particularly those relating to their favorite drivers. We believe 4DCard's digital Collectible Cards will serve as another way for fans to bring NASCAR into their lives."
4DCard will launch the program this fall with its NASCAR Essentials Series Premium titled NASCAR's Classic Moments. The Premium introduces the CD-ROM/DVD based product to NASCAR fans and will be distributed through 4DCard's event marketing team to be on location at 2007 stops in Atlanta, Dallas, and Phoenix.
About NASCAR
The National Association for Stock Car Auto Racing, Inc. (NASCAR), which began in 1948, is the sanctioning body for one of America's premier sports. NASCAR is the #1 spectator sport - holding 17 of the top 20 attended sporting events in the U.S., the #2 rated regular season sport on television with broadcasts in more than 150 countries, and has 75 million fans that purchase more than $2.1 billion in annual licensed product sales. These fans are the most brand loyal in all of sports and as a result, more Fortune 500 companies participate in NASCAR than any other sport. NASCAR consists of three major national series (NASCAR NEXTEL Cup Series, NASCAR Busch Series, and the NASCAR Craftsman Truck Series) as well as eight regional tours and one local grassroots series. NASCAR sanctions 1,800 races at over 110 tracks in 36 states, Canada and Mexico. Based in Daytona Beach, NASCAR has offices in Bentonville (Ark.), Charlotte, Concord (N.C.), Conover (N.C.), Los Angeles, New York, Mexico City and Toronto.
About 4DCard, Inc.
4DCard, Inc. is a leading multi-media marketing company bringing one-stop solutions for sports and entertainment properties. With an innovative approach to identifying and engaging consumers - the Southern California based company helps brands better know their customers by blending brands, icons, and technology to engage consumers with entertaining products and services. The company has developed a wide array of multimedia marketing solutions including websites and mobile content that it delivers through Internet, CD/DVD-ROM and wireless applications. For further information please visit the company website at http://www.4Dcard.com.
Contacts:
Andrew Giangola
NASCAR
347/236-2094
Douglas Friedman
4DCard, Inc
973/985-1050
# # #