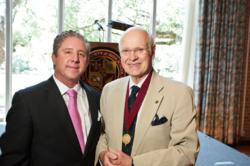 "How appropriate to ring in the beginning of a new school year with the ringing of the NASDAQ bell," said Nobel. "Our young people represent our greatest asset for a brighter future and a new, fresh start."
New York (PRWEB) August 15, 2012
The National Society of High School Scholars (NSHSS) Foundation today announced that founder Claes Nobel, senior member of the family that established the Nobel Prizes, will preside over the closing bell ceremony at the NASDAQ Stock Market in Times Square on Monday, August 20, 2012.
The event will spotlight Nobel's dedication to encouraging today's young scholars to become tomorrow's leaders. "How appropriate to ring in the beginning of a new school year with the ringing of the NASDAQ bell," said Nobel. "Our young people represent our greatest asset for a brighter future and a new, fresh start."
The Foundation strives to support young scholars pursuing careers that fuel the global economy, stimu-late innovation and creativity, or yield a strong ethical foundation for decision-making. Scholarships are targeted to under-represented students declaring majors in business, finance, or economics, STEM (Science, Technology, Engineering, and Mathematics), or public policy.
"We face a complicated global economy. Businesses are demanding the best professionals that universities can train to help them meet these challenges," adds Foundation Executive Director Dr. Susan Thurman." It is critical that these students receive all the tools necessary to help them succeed."
Following the bell ringing ceremony, Mr. Nobel will address young scholars at a reception sponsored by Abercrombie & Fitch and will present scholarships awarded through the Foundation.
The NSHSS Foundation Mission
The Foundation seeks to support education in the form of scholarships, with emphasis on targeting under-represented minori-ties who express interest in business, finance, economics, public policy, and STEM career majors--Science, Technology, Engi-neering, and Mathematics. The Foundation was established by Claes Nobel, a senior member of the family that established the Nobel Prizes, to fulfill this mission. The Foundation recognizes the need to produce more graduates with knowledge and skills in these disciplines in order to meet the competitive challenges of the technology-driven global economy of the 21st century. Mr. Nobel is committed to this effort to steer students to become qualified workers in these areas in order to improve the quality of life for all. To learn more, please visit http://www.nshssfoundation.org.