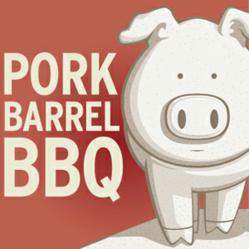 "Barbecue is the one true American cuisine, and we hope NASFT attendees will stop by booth 2803 to sample our award-winning sauces during the show and visit our restaurant in Alexandria, Virginia for lunch or dinner." - Heath Hall, Pork Barrel BBQ
Washington, DC (PRWEB) June 14, 2012
** To Sample Pork Barrel BBQ's Award-Winning BBQ Sauces -- Visit Booth 2803 **
Pork Barrel BBQ, America's fastest-growing barbecue sauce company, welcomes attendees of the National Association for the Specialty Food Trades (NASFT) Summer Fancy Food Show to Washington, DC. NASFT attendees are invited to dine at the company's Pork Barrel BBQ Restaurant, named one of the nation's best BBQ restaurants in the current issue of Food & Wine Magazine which named Pork Barrel BBQ co-founders Heath Hall and Brett Thompson among the "Best BBQ Pit Masters and Grill Geniuses" in America.
Hall and Thompson will be greeting guests at the Fancy Food show June 17-19 with samples of their award-winning barbecue sauces carried in over 4,000 grocery stores and retail outlets across North America.
To taste all of Pork Barrel BBQ's products, visit BOOTH 2803.
For directions to Pork Barrel BBQ Restaurant, visit http://www.porkbarrelbbq.com/restaurants-and-catering/
Since founding Pork Barrel BBQ in 2009, Hall and Thompson have become the specialty food and barbecue industry's most-watched entrepreneurs. Widely recognized as the winning entrepreneurs from ABC's hit reality show Shark Tank, Hall and Thompson are known for their creative and innovative approaches to starting and growing a successful business.
Recent accolades include:

Men's Health Magazine declaring Pork Barrel BBQ's Original BBQ Sauce as one of the "125 Best Foods for Men"
Food & Wine Magazine naming Pork Barrel BBQ to its list of the country's "Best BBQ Pit Masters and Grill Geniuses"
Country Living Magazine listing Pork Barrel BBQ Sweet BBQ Sauce as one of the "Best Barbecue Sauce in the Country"
Washington Post's Jim Shahin proclaiming Hall the winner of the Golden Rib award for his "accomplishments in food, business, and do-goodism."
Numerous competition barbecue awards and titles, including the reigning Grand Champion of the 2011 Safeway National Barbecue Battle, the reigning Perdue National Chicken Champions, and First Place in Pork at the Academy of Country Music (ACM) BBQ Throwdown in Las Vegas, NV.
Pork Barrel BBQ continues to expand its lineup of award-winning barbecue sauces and products. In the first quarter of 2012, the company launched Pork Barrel BBQ Carolina Vinegar Sauce, was a featured success story on ABC's Shark Tank, recently hosted the nation's first LivingSocial lunchtime pop-up restaurant in Washington, DC, and are featured as BBQ Experts on HowCast.com with numerous instructional and demonstration videos from the famed pitmasters on barbecue basics and favorite recipes.
In 2011, Pork Barrel BBQ debuted a specialty BBQ-flavored peanut with FERIDIES, added Pork Barrel BBQ Mustard BBQ Sauce to their line of sauces, introduced the world's first barbeque scented fragrance – Que, continued to earn top awards on the professional barbecue circuit, and opened the first Pork Barrel BBQ Restaurant in the Del Ray neighborhood of Alexandria, Virginia.
"We're excited to welcome NASFT attendees to Washington, D.C., our hometown," said Hall, President of Pork Barrel BBQ. "Barbecue is the one true American cuisine, and we hope NASFT attendees will stop by booth 2803 to sample our award-winning sauces during the show and visit our restaurant in Alexandria, Virginia for lunch or dinner."
Pork Barrel BBQ sauces and products are currently distributed to over 4,000 stores nationwide and online, including Whole Foods, Costco, The Fresh Market, Safeway, Stop & Shop, and Harris Teeter. Praised for its gluten free and all-natural quality ingredients, more Americans and barbecue enthusiasts nationwide are purchasing Pork Barrel BBQ sauces and All-American Spice Rub products than any other competition-quality barbecue products on the market today.
For more information about Pork Barrel BBQ, visit http://www.porkbarrelbbq.com and read about their latest updates and adventures on Facebook, Twitter (@porkbarrelbbq) and the company's blog.
TO SCHEDULE MEDIA APPEARANCES WITH HEATH HALL & BRETT THOMPSON DURING THE NASFT SUMMER FANCY FOOD SHOW:
Contact (202) 246-1698 or (202) 731-2114
About Pork Barrel BBQ
Pork Barrel BBQ was founded in December 2008 during the peak of the economic crisis to prove that a company not owned or operated by the federal government could succeed, and that if you had a good idea, it was still possible to grab a piece of the American Dream. Pork Barrel BBQ founders, Heath Hall and Brett Thompson, ran the company out of the basement of their houses, selling their award winning BBQ products one bottle at a time. In less than one year, their Pork Barrel BBQ Sauces and Spice Rub were carried in over 1,000 stores in 40 states. Throughout their journey, they have stayed true to their mission – to unite the nation through the great tradition of BBQ, and bring bipartisan flavor to your next meal. The Pork Barrel BBQ Competition BBQ Team entered its first contest, The Safeway National Capital Barbecue Battle, in June 2009, and walked away with two trophies – Second Place in the "Nations Best BBQ Sauce Contest" and Fourth Place for their pulled pork in the Memphis In May portion of the contest. Since then, the team has won multiple awards, including the 2011 Perdue National Chicken Championship, the Safeway National Capital Barbecue Battle in 2011, the "Chinet People's Choice" award for best BBQ sauce in 2010 and other notable Memphis in May and Kansas City Barbecue Society BBQ competition accolades as well as having their Pork Barrel BBQ Original BBQ Sauce named Best Sauce in America and one of "The 125 Best Foods for Men" by Men's Health Magazine in November 2010. For more information, visit http://www.PorkBarrelBBQ.com or follow Pork Barrel BBQ on Facebook and Twitter (@porkbarrelbbq).
About the NASFT
The NASFT is a not-for-profit trade association established in 1952 to foster trade, commerce and interest in the specialty food industry. Today there are more than 2,900 members in the U.S. and abroad. The NASFT's website for consumers, foodspring.com, provides an insider's look at specialty foods and the companies, entrepreneurs and artisans behind them. For information on the NASFT, go to http://www.foodspring.com/about/nasft. For information on the NASFT's Fancy Food Shows, go to http://www.fancyfoodshows.com.